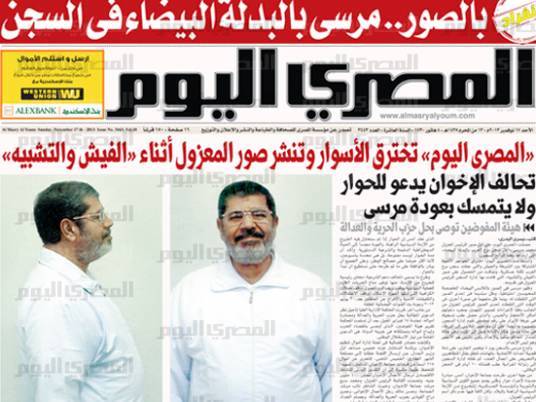 Egypt Independent has obtained exclusive photos of deposed President Mohamed Morsy in his white prison suite, smiling as his picture is taken.
The photos taken by officials are part of standard procedure upon arrival at the prison and are attached to the subject's police record.
Morsy has been detained since 4 November of this year, accused of inciting violence against protesters during clashes outside the presidential palace in Ittihadiya, which left seven protesters dead. The Brotherhood has allegedly called supporters to gather around the palace to protect it from being overrun after the police failed to intervene and control the escalation of violence.
On Friday, Morsy was transferred to a single prison cell where he was banned from performing the Friday prayers for "security reasons" according to the Interior Ministry.
Many Brotherhood members, such as Mohamed al-Beltagy and Supreme Guide Mohammed Badie, have appeared smiling in photographs as authorities apprehend them. Khalid Kamal, a specialist in human development and an expert on body language, said the Muslim Brotherhood leaders' smiles during arrest are forced and do not reflect their real psychological state.
Kamal added that these leaders want to send several messages of reassurance to their followers and the Egyptian people in general by making a number of smiles on regular basis in order to counter the sense of victory from their opponents who are watching them being arrested.
In a press conference on Saturday, the Muslim Brotherhood-led National Alliance to Support Legitimacy proposed a serious dialogue to agree on future arrangements without the exclusion of any political faction.
The initiative involves "an end to the military coup, the return to constitutional legitimacy and retribution for martyrs," said the statement.
"Any serious dialogue requires an environment that is suitable for the political process, as well as halting hatred campaigns broadcast by the media, releasing post-30 June detainees, the return of satellite channels that had been closed, confronting thuggery, securing vital facilities in a way that does not conflict with the right to peaceful protests and adopting openness," said the alliance, explaining that its call is directed to the Egyptian people.
More exclusive pictures will be published in the print edition of Al-Masry Al-Youm on Sunday.