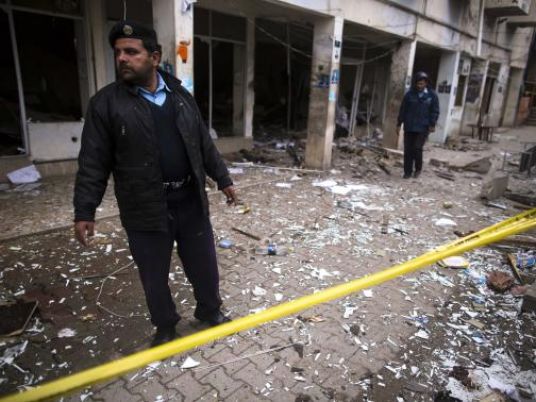 Tens of thousands of Pakistani supporters on Tuesday cheered and threw flowers at the casket of a bodyguard executed this week for killing the governor of Pakistan's most populous province over his call to reform a strict blasphemy law.
Security was tight at the funeral for Mumtaz Qadri, whom supporters consider a hero for killing popular Punjab governor Salman Taseer in 2011 for criticizing the law that mandates the death penalty for insulting Islam or the Prophet Mohammad.
Police blocked off roads to Liaquat Bagh park in the city of Rawalpindi but thousands arrived on foot.
"He lives! Qadri lives!" chanted supporters who surrounded the coffin and threw flowers. "From your blood, the revolution will come!"
Hard-line religious groups in Pakistan say Taseer deserved to die because he himself committed blasphemy by criticizing the law and supporting a Christian woman he said was unjustly charged with the crime.
Pro-Qadri demonstrations first broke out on Monday after word spread that he had been executed.
"Mumtaz Qadri is a hero of Islam. He sent to hell a person who showed disrespect for the holy Prophet," Tahir Iqbal Chistie of the hard-line Sunni Tehreek movement said at one of Monday's protests.
Stick-wielding Sunni Tehreek activists were maintaining security at Tuesday's funeral.
The influential leader of the conservative Council of Islamic Ideology declined to endorse Qadri's action.
"No one is above the law," Mohammad Sherani told journalists, according to the Express Tribune newspaper.
"I respect Qadri's religious sentiments but I respect Pakistan's constitution more."
Controversy over the blasphemy law has exposed the growing gap between hard-line religious conservatives and liberals in Pakistan.
More than 100 people are charged with blasphemy and jailed each year each year in predominantly Muslim Pakistan, many of them Christians and other minorities. Critics say the law is often invoked in cases of personal disputes.
No one has yet been executed over a blasphemy charge, but at least 65 people have been murdered in connection with blasphemy allegations since 1990, according to data from the Center for Research and Security Studies and a Reuters tally.