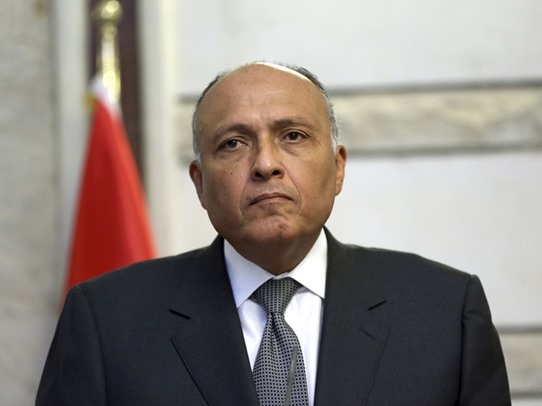 In continuation of the efforts of Egyptian COP27 presidency in communicating with various parties in preparation for the 27th session of the Conference of Parties to the United Nations Framework Convention on Climate Change (COP27), Minister of Foreign Affairs Sameh Shoukry, COP27 President-designate, participated on, October 4, 2022, in the Climate Vulnerable Forum (CVF), chaired by Ghana, on the margins of the Pre-COP Ministerial meeting in Kinshasa.
Ministry of Foreign Affairs Spokesperson, Ambassador Ahmed Abu Zeid, stated that Minister Shoukry highlighted in his speech the climate most vulnerable parties and the challenges they face to deal with climate change repercussions, despite the fact that these parties didn't contribute to the causes that led to the current global challenge related to climate change.
In this context, the Minister of Foreign Affairs presented some aspects of the unbalanced responses to climate change challenges, as the majority of finance is allocated to reduce emissions, in contradiction with the meager financing directed to tackle the mitigation, adaptation, resilience and loss and damage, as well as the meager finance provided to developing countries in the form of grants, which is estimated at only 6% of the total finance, at a time when the vast majority of finance is provided in the form of loans that exacerbate the burdens on the developing countries despite their almost non-existent contribution to the causes of climate change.
Ambassador Abu Zeid revealed that Minister Shoukry stressed, in his interventions in the forum, the necessity for all parties to address the aforementioned challenges in a manner that would  correct the unbalances, in order to ensure reducing of emissions, achieving food  and water security, just financing, and transition towards clean energy, in addition to updating NDCs to promote the Climate Mitigation Action Plan during COP27, and to fulfill the pledges that were multiplied during Glasgow conference to make progress on the global goal of adaptation.
On the other hand, Minister Shoukry presented the efforts and consultations that he conducted with the aim of reaching a globally agreed outcome regarding loss and damage resulted from climate change, while affirming the continuation of efforts in this regard. Shoukry also presented the work program of the Leaders Summit and the various roundtables that will allow direct interactions between the leaders on a number of topics, as well as thematic days, and initiatives that will cover several issues, including food security, water security, providing a decent life in Africa, waste management, and just transition to clean energy, while calling on the Forum's members to join and benefit from these initiatives.