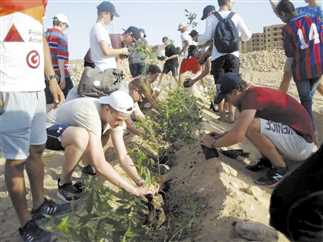 The German-Egyptian Volunteer Day kicked off at al-Tod town in Luxor City on Sunday for the fourth year in a row. Sixty students from Egyptian schools and German universities, as well as dozens of volunteers, participated in the event organized by the Youth Association for Comprehensive Development in Tod town.
Representatives from the Sports and Youth Ministry and the German Embassy in Cairo,  along with tourism experts and public figures attended the event.
On Sunday, 1,300 ornamental and fruit trees were planted in the Husainat area in south Luxor.
Chairman of the Youth Association Salah Galal said that the event aims at instilling the values ​​of volunteering, strengths Egyptian-German relations, and contributes to the development of Tod town through the planting of 1,300 trees. The event also features recreational, service and charitable activities, he added.
According to Galal, German students planned a charity football match for cancer patients in Upper Egypt in a tourist resort.
They planned as well launching an initiative dubbed "Egypt is safe, come visit it" to encourage German tourism in Luxor, through posting photos of the city and video messages in three languages on social media.
German volunteer Manuel Dyer said the German participants were happy with the tree planting initiative, adding that he and his colleagues named the trees they planted and took commemorative photos with them to find out its place and visit it in coming years.
He concluded by saying that he was excited to visit the tomb of the King Tutankhamun, about whom he read a lot.
Edited translation from Al-Masry Al-Youm