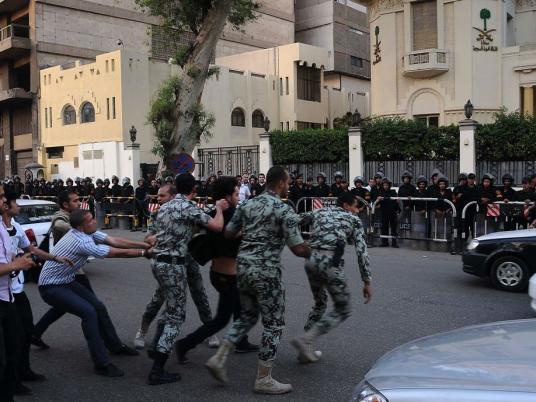 The wife of Ahmed al-Gizawy, the Egyptian human rights activist and lawyer detained in Saudi Arabia on charges of drugs smuggling, has said Saudi authorities did not allow a lawyer to attend his questioning.
Shahenda al-Gizawy said Yasser Elwany, the legal adviser at the Egyptian consulate in Jeddah, had informed her that neither an Egyptian nor a Saudi lawyer were allowed to attend the sessions.
She told Al-Masry Al-Youm that several Egyptian and Saudi lawyers volunteered to defend her husband, but authorities did not let them.
"This raises doubts about investigations procedures," she said.
Gizawy's arrest on 17 April led to protests at the Saudi Embassy in Cairo, which led to the temporary withdrawal of Saudi Ambassador to Egypt Ahmed al-Qattan. Prior to his arrest, Gizawy had filed a lawsuit against Saudi authorities over their treatment of Egyptians.
The ambassador returned after an Egyptian parliamentary delegation visited the kingdom.
Shahenda al-Gizawy also said Egyptian consulate officials told her they hadn't been able to review the indictment or decide on a legal solution because Saudi authorities have not allowed it.
Khaled Abu Kereisha, a member of the Lawyers Syndicate board who will defend Gizawy in Saudi Arabia, said the syndicate had already submitted two requests to Saudi authorities to attend the questioning sessions and review the indictment, but they received a negative response.
The problem "is not about granting visas to the Egyptian lawyer delegation, as rumored. It's about permitting them to defend Gizawy," he said.
Procedures for defending a suspect are clear, Abu Kereisha said, and involve legal representation during both questioning and trial as well as access to the documents of the case.
"Without those steps, we will question trial procedures and demand a retrial, which would trigger a new crisis between Cairo and Riyadh," Abu Kereisha said.
Edited translation from Al-Masry Al-Youm