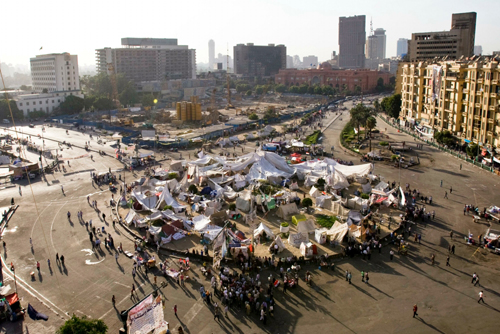 The number of protesters in Tahrir Square swelled throughout Friday afternoon as opposition forces gathered to call for President Mohamed Morsy's ouster in the nationwide "Trial of the Regime" demonstrations.
Marches are planned to Tahrir from Dawaran Shubra and Sayeda Zeinab later in the day.
Protesters in the square called for the dissolution of the Muslim Brotherhood and the prosecution of its leaders, the firing of the prosecutor general and the release from prison of all political detainees. The chanted, "The one who chants will not die," and "Down with the rule of the supreme guide."
Another march is planned from Tahrir to the High Court, with yet another from Sayeda Zeinab to the prosecutor general's office.
Hundreds of Shubra residents staged a call for civil disobedience in Cairo. The protesters said they objected to Morsy's policies, and warned of an impending "revolution of hunger." They raised knives and forks, loaves of bread and banners that read, "The revolution of hungry [people] is coming, Morsy," and "An appeal to the Armed Forces to intervene and save the country from Brothers."
Demonstrators erected a stage in Dawaran Shubra and announced a sit-in, as well as solidarity with civil disobedience movements in the three canal governorates. They played national songs and chanted against the Muslim Brotherhood.
Hundreds of protesters marched from Khazendara Mosque and Hageen Mosque after Friday prayers. They formed human chains and regulated traffic.
Members of the Egyptian Organization for Human Rights joined the protest.
"We participate in the Friday [protest] to warn President Morsy, and call for postponing the parliamentary elections which he scheduled for Easter, causing widespread Coptic resentment," organization chairman Nagib Gabrael told Al-Masry Al-Youm.
"Civil disobedience is one of the forms of protests protected in laws, constitutions and international treaties, and Egyptians have the right to do it," Gabrael added.
Edited translation from Al-Masry Al-Youm and MENA