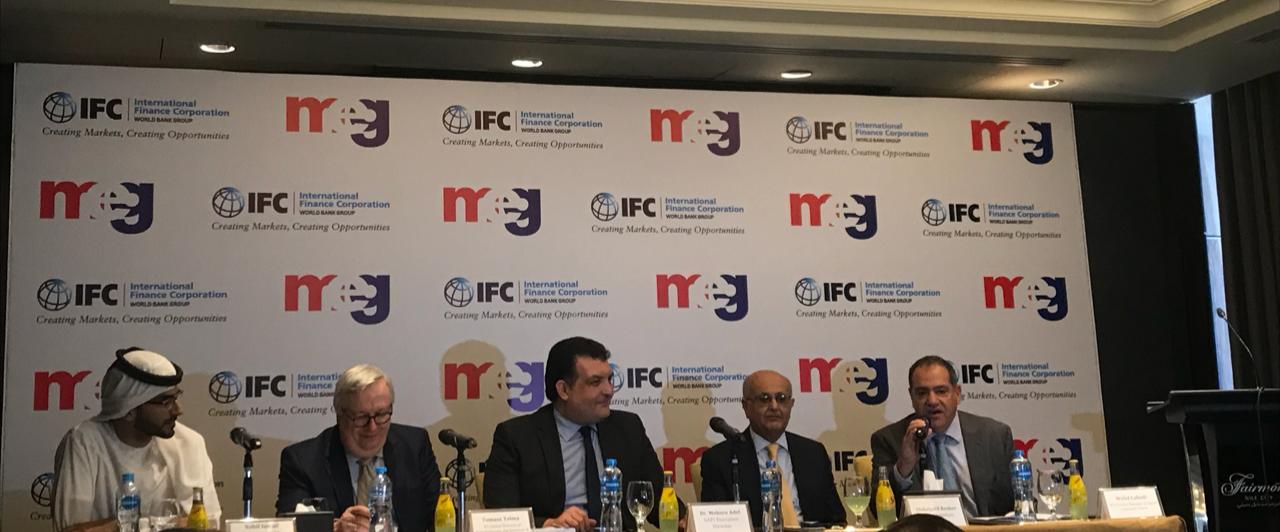 The International Finance Coordination (IFC), a member of the World Bank, provided up to $100 million in financing to the Middle East Glass Manufacturing Company (MEG), Egypt's leading producer of glass containers. The partnerships intends to bolster the firm's capital expenditure program, creating new job opportunities and augmenting the Egyptian manufacturing sector. 
The agreement was revealed during a press conference held on April 1 in the presence of IFC Director of Manufacturing, Agribusiness and Services Tomasz Telma. Telma expressed his happiness that his trip to Egypt featured such an impactful agreement.
"This project will offer 4,000 direct and indirect positions in companies, which is a very significant impact," Telma stated in the conference, referencing the agreement's role in reducing Egyptian employment. "We're very much looking forward to that agreement," he added.
He added that the significance of the deal isn't only the investment. MEG is known for its alternative energy methods that are qualified to reduce energy consumption and greenhouse emissions by up to 55 percent. He pointed out that if the two sides successfully manage to implement such improvements, the agreement would make a considerable impact, especially on the companies' expenses.
Telma previously mentioned that IFC's main strategy in Egypt is to invest in companies that have strong export potential, a tactic that boosts local economy and creates jobs.
Besides Telma, the conference was attended by Karim El Solh, Co-founder and CEO of Gulf Capital, which is one of the main shareholders in MEG, Mohsen Adel who is GAFI Executive Director, and Walid Labadi who is IFC Country Manager in Egypt, Libya and Yemen, among others.
IFC's debt financing package intends to enable MEG to amass its glass containers production, which many companies rely on, including beverage companies and pharmaceutical firms. It aims to help MEG solidify its footprint on both the local and the international level, swelling its annual exports.
IFC views the manufacturing sector in Egypt as a major employer and key source of foreign currency as well, a statement by IFC and MEG read.
"Manufacturers like MEG are a crucial part of Egypt's economy," said Egypt's Minister of Investment and International Cooperation Sahar Nasr in a statement. "Not only are they creating jobs and opportunities locally, but by branching out internationally, they are demonstrating the attractiveness of the Egyptian business environment and showing that Egyptian companies have the potential to make a mark on the world," she added.
MEG's Chairman referred to the recent agreement as a testimony to the company's talented workforce and groundbreaking leading management. He stressed that the company's products unite two demands: high quality and good prices.
El Solh noted that Gulf Capital has worked with IFC across prior transactions to financially support MEG's promising plans. He added that these plans focus on MEG's expansion across many countries in addition to the establishment of new products lines that promote the company as a leader in the glass market of the Middle East and Africa.
Last year, IFC investments in Egypt climbed from $1.2 billion to $1.5 billion, opening job opportunities and enhancing the national economy, paving the way for a vibrant private sector. These investments included a radical $653 million contribution to the Benban solar park nearby Aswan to construct the world's largest solar energy site, which will offer eco-friendly electricity to 350,000 people in upper Egypt.
IFC issued its first local-currency loan worth $15 million with the purpose of employing 12 percent of Egyptian workers. There were many other transactions that united IFC with CIB, regional dairy and juice producer Almarai, and several other organizations based in infrastructure and housing in addition to smaller businesses.
IFC works with more than 2,000 business worldwide, and their efforts are particularly concentrated in developing countries.