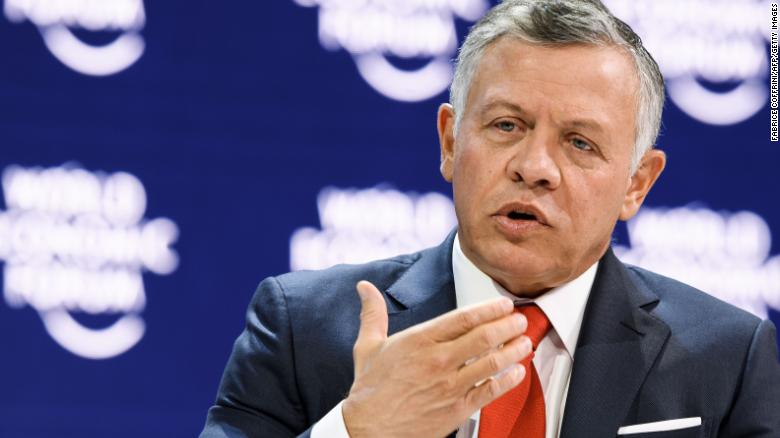 (CNN)–Jordan's King Abdullah has scrapped a planned visit to Romania following the Romanian Prime Minister's comments about moving her country's Israeli embassy from Tel Aviv to Jerusalem, Jordan's state-run Petra news agency said Monday.
"The decision came in solidarity with Jerusalem, following Romanian Prime Minister Viorica Dancila's remarks on Sunday expressing the intention to move her country's embassy to Jerusalem," Petra reported.
The PM made the announcement at a conference in Washington, DC held by the American Israeli Public Affairs Committee (AIPAC), a pro-Israel lobbying group.
However, it was quickly rebuffed by Romania's President Klaus Iohannis, who said in a statement that only he could take such a decision.
Iohannis has previously expressed his opposition to moving the embassy and blocked an earlier attempt to do so.
On Sunday, Dancila told delegates at the AIPAC conference: "I am pleased to announce today … that, after the finalization of assessments and with all constitutional actors involved in the decision-making process and in full agreement, I as Prime Minister of Romania, and the government that I run, will move our embassy to Jerusalem, the capital of the State of Israel."
Any such move would make Romania the first European country to relocate its embassy to Jerusalem, and would mark a significant break with the European Union's consensus position that the status of the city should be decided in negotiations between Israel and the Palestinians.
Palestine Liberation Organization Secretary-General Saeb Erekat denounced Dancila's announcement, calling it a "blatant violation of Palestinian rights, international law, and UN resolutions."
"It only contributes to eliminating the two-state solution, the only way towards peace and stability in the whole region," Erekat wrote on Twitter. He called on the EU to block the move, "which is a violation of Europe's long-standing policy."
A possible relocation of the Romanian embassy would follow 
in the footsteps of the US
, which formally recognized Jerusalem as the Israeli capital in December 2017 and moved its embassy in May 2018. The move spurred international uproar, igniting protests among the Palestinians and drawing the condemnation of several political leaders.
A United Nations General Assembly vote in December 2017 condemned US President Donald Trump's decision to declare Jerusalem the capital of Israel. Romania was one of 35 countries to abstain, while 128 countries condemned the announcement.
A short time before Dancila's announcement, Honduran President Juan Orlando Hernandez said he would open a diplomatic mission in Jerusalem, which he said would "extend" the embassy in Tel Aviv to Jerusalem. He added that he intends to move the embassy to Jerusalem but did not say when that would take place.
Honduras was one of nine countries to vote against the UNGA's condemnation of Trump's Jerusalem decision.
By Nada Altaher, Caroline Faraj and Andrew Carey, CN
Photo: King Abdullah II of Jordan attends a session at the Economic Forum (WEF) annual meeting on January 25, 2018 in Davos, eastern Switzerland.