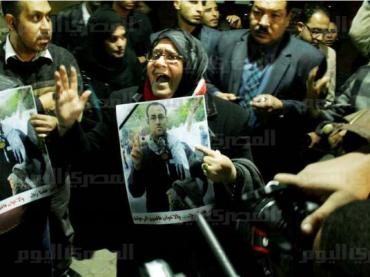 Khaled Meery, a member of the Journalists Syndicate board, said his group had rejected an apology from the Muslim Brotherhood for the assault of peers covering a Brotherhood protest at its headquarters in Moqattam on Saturday.
Meery said the Brotherhood refused to hold anyone responsible for the attack that injured several protesters and journalists.
In a phone interview with ONtv satellite channel Thursday, Meery said, "We have several alternatives if the Public Prosecution does not find the attackers guilty — whether in regards to reporters who have died of late doing their jobs, the assault on journalists in front of the Supreme Guidance Bureau or even violence against us in general."
He added that members of the syndicate board, which held a meeting extending into the early hours of Thursday, are calling on the Public Prosecution to implement speedy investigations into the numerous recent incidents where journalists have been targeted.
Meanwhile, things were relatively calm outside the Brotherhood headquarters a day ahead of "Friday of Restored Dignity" protests called for by revolutionary groups protesting against last week's clashes.
Thuesday was also the first time protesters have not been camped outside the premises since Saturday. However, Brotherhood youth members were still on hand to secure the building.
Security also maintained a strong presence with more than 10 Central Security Forces vehicles deployed near the headquarters and police patrolling the area.
Meanwhile, residents of Moqattam said they fear protesters will lay siege to the headquarters again on Friday.
Some residents have begun collecting signatures to file a lawsuit demanding the Brotherhood headquarters move to another site. They complain of tear gas in their homes and say they can no longer live normally due to the unrest.
Other residents have formed vigilante groups armed with sticks and bladed weapons to protect shops and drive away protesters.
A source from the Brotherhood said the group intends to build up the wall surrounding the headquarters to dissuade protesters from climbing and trying to storm the building Friday.
The Brotherhood is also attempting to get political factions to call off the Friday marches and is asking the Nour Party to spread goodwill for the embattled group.
Supreme Guide Mohamed Badie says all youth members of the group will be asked to leave the headquarters to preserve lives.
However, Deputy Supreme Guide Khairat al-Shater and spokesperson Mahmoud Ghozlan have called for the formation of youth committees to assist the police.
Karem Radwan, a member of the group's Shura Council, said the Brotherhood is counting on the Interior Minister to protect the group's Moqattam headquarters and offices across Egypt.
Edited translation from Al-Masry Al-Youm