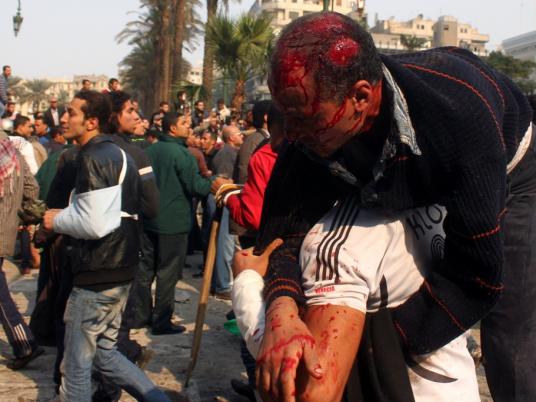 An Egyptian judge has dismissed all charges against three political activists and a prominent sheikh accused of inciting violence against the military during clashes that took place between protesters and military forces outside the cabinet building in Cairo in December.
The charges against Nawara Negm, Mamdouh Hamza, Tarek al-Kholy and Al-Azhar Sheikh Mazhar Shaheen were dropped after the judge leading investigations ruled on Sunday that there was a lack of evidence in the case.
Prominent journalist and activist Nawara Negm denied the accusations against her during an official interview on Sunday with Judge Wagdi Abdel Moneim, who was appointed by the Justice Ministry to investigate the clashes, which left 19 protesters dead.
According to Ramy Ghanem, a lawyer who attended the interrogation, a man named Abdel Aziz Fahmy Abdel Aziz filed a lawsuit against Negm, claiming that he saw her on 6 January inciting a group of young people against the army and police in front of Omar Makram Mosque in Tahrir square. Then, according to Abdel Aziz's story, political activist Mamdouh Hamza and April 6 leader Tarek al-Kholy joined Negm. Later, all three met with Al-Azhar Sheikh Mazhar Shaheen for half an hour inside the mosque.
Abdel Aziz alleges that he later saw them with another group of youths who were holding money in their hands, and that he heard one of them talk about taking money from Hamza as a reward for participating in December's violence.
Abdel Aziz is also responsible for submitting a lawsuit against blogger Alaa Abd El Fattah in connection with the Maspero massacre in October 2011, in which 31 protesters, most of them Copts, were killed in clashes with the army.
"Nawara told the judge that she was not in Tahrir Square on 6 January and that she was with two of her friends in the district of Mohandiseen on that day, denying the whole incident took place," Ghanem told Egypt Independent.
Negm is a one of the most popular bloggers among young activists, known for shedding light on police violations during the rule of former President Hosni Mubarak.
Both Shaheen and Kholy were also questioned as witnesses and denied the incident.
Shaheen said during the questioning that he has not met Hamza in about six months and that he did not see Negm on Friday 6 January, according to Osama Sheshtawy, the lawyer who represented Shaheen during the questioning.
Both Shaheen and Kholy said that they went to join Christmans mass in Kasr Dobara Church after Friday prayers, along with a number of other public figures, added Sheshtawy.
Shaheen is known for his revolutionary sermons during Friday prayers, many of which have coincided with Tahrir Square protests since the revolution started. Since former President Hosni Mubarak stepped down on February, Shaheen has often criticized the ruling Supreme Council of the Armed Forces (SCAF) and condemned the killing of protesters.
Hamza didn't show up for questioning and the three accused were released due to a lack of evidence.
"The lawsuit is completely baseless, and there is no evidence of any sort: no videos, no pictures, no eyewitnesses, nothing," Sheshtawy told Egypt Independent.
Sheshtawy added that the defense team has now submitted a lawsuit to the prosecution office against Abdel Aziz, accusing him of filing a false lawsuit.
Violence erupted in the area surrounding the cabinet building in early December when military forces brutally cracked down on a sit-in by a number of activists, leading to the death of 19 protesters and the injury of hundreds more.