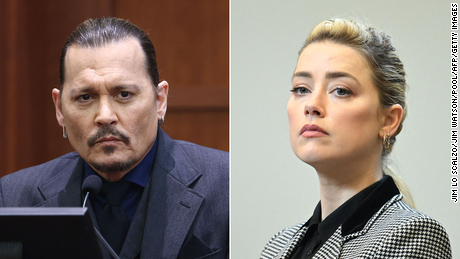 (CNN)A jury has found both Amber Heard and Johnny Depp liable for defamation in their lawsuits against each other. The jury awarded significantly more damages to Depp, a legal win for the actor.
Depp sued Heard, his ex-wife, for defamation over a 2018 op-ed she wrote for The Washington Post in which she described herself as a "public figure representing domestic abuse." Though Depp was not named in the article, he claims it cost him lucrative acting roles. Heard countersued her ex-husband for defamation over statements Depp's attorney made about her abuse claims.
The jury found that Heard defamed Depp in three separate statements in The Washington Post piece, and that Depp defamed Heard with one statement his attorney made.
The jury awarded Depp $10 million in compensatory damages and $5 million dollars in punitive damages. The jury awarded Heard $2 million in compensatory damages and no money for punitive damages.
Depp sought $50 million in damages and Heard sought $100 million. Punitive damages in the state of Virginia are capped at $350,000, so the judge reduced the punitive damages award to that amount.
The verdict is a "tremendous" legal win for Depp and a repudiation for Heard, according to CNN Legal Analyst Joey Jackson.
"It's a tremendous victory," Jackson said. "What he had to overcome was a First Amendment issue which is that we all have the right to express our thoughts and opinions. What they (the jurors) said was that, yeah, you do have a First Amendment right unless you say something that is false that injures someone's reputation and causes damages to them in their industry."