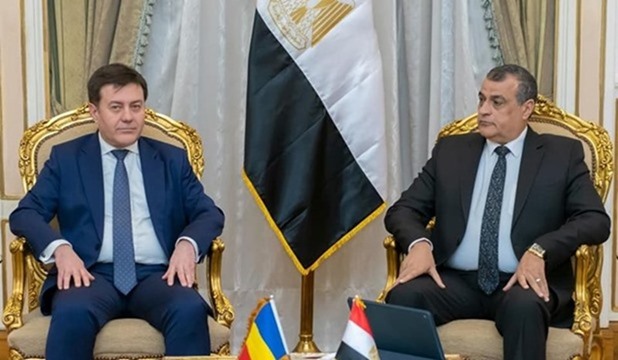 Minister of Military Production Mohamed Salah al-Din conferred on Monday with Romanian Minister of Economy Florin Spătaru on means of bolstering joint cooperation.
During the meeting, Salah al-Din asserted that the two countries are seeking to beef up cooperation ties in the coming phase through opening up new horizons for cooperation and integration.
He said the Romanian delegation's visit to Egypt under the chairmanship of Romanian Prime Minister Nicolae Ciucă and his meeting with President Abdel Fattah al-Sisi aimed at holding expanded talks on strengthening economic ties, noting that this visit acquires special importance as it the first official visit by a Romanian premier to Egypt in 20 years.
Salah al-Din said talks will cover exchanging expertise in the various industrial domains, adding that the Ministry of Military Production is looking forward to enhance cooperation and achieve integration between the military production companies and their Romanian opposites in view of their advanced potentials and technological capabilities.
He also invited the Romanian companies to form technical teams to visit the Egyptian military production companies and their affiliates to be briefed on their potentials on the ground.
Salah al-Din also invited the Romanian companies to take part in Egypt Defense Expo (EDEX 2023) that will be held on December 4-7 in Cairo.
The Romanian minister, for his part, voiced his country's resolve to make progress in relations with the Egyptian side especially in the fields of manufacturing with a special focus on cooperation with the military production companies, noting that Egypt enjoys a distinguished geographical location that turns it to be a gate for the Arab and African markets.