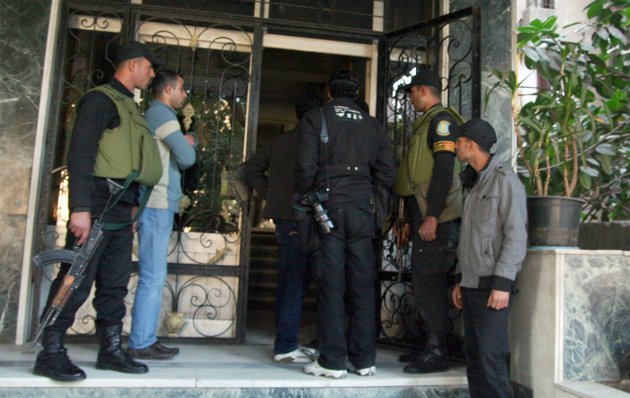 December's security raid on the National Democratic Institute (NDI) offices in Egypt were "extremely dangerous" and "shocking," Les Campbell, director of the US-based NDI's democracy programs in the Middle East, has said.
He accused Egypt's Minister of Planning and International Cooperation Fayza Abouelnaga of attempting to control NGOs in order to silence them.
In statements to Al-Masry Al-Youm on Saturday, Campbell said the raids were shocking because the NDI was under the impression that it had good and transparent relations with the Egyptian Foreign Ministry.
He added that the problem began a few months ago when Abouelnaga made statements criticizing the work of NGOs in Egypt.
Campbell said Abouelnaga's attempt to control civil society organizations contradicts the principles of free expression and assembly. He said the campaign was intended to send a message that NGOs who criticize the state should expect their operations to be terminated.
He said the NDI does not want to interfere in Egyptian affairs, but added that Egypt should remain open to learning from outside experiences in order to successfully transition to democracy.
Asked if the NDI dealt with the Muslim Brotherhood under ousted President Hosni Mubarak, Campbell said that the institute wanted to establish a relationship with the Brotherhood and had met with Saad al-Katatny, current secretary general of the Muslim Brotherhood's Freedom and Justice Party (FJP), but the group was not interested in working with NDI.
Since the 25 January revolution the situation has changed, he said, and some FJP members have received training from the NDI, particularly young leaders.
Regarding Egypt's parliamentary elections, he said they are the first step toward democracy, despite problems reported in the vote-counting process, voter confusion due to the complicated process, and inadequate training of poll workers.
He said the Nour Party and FJP provided useful information to voters, but also directed them to vote in favor of their parties. He added that he hopes the new parliament will be an independent institution vested with appropriate powers.
At the end of December, the offices of two Egyptian NGOs, the Arab Center for Independence of Justice and Legal Professions and the Budgetary and Human Rights Observatory, were raided. The same day Central Security Forces and state prosecutors stormed the offices of the NDI, the International Republican Institute and Freedom House.
Outside the NDI office in Dokki, an Egypt Independent reporter saw at least six CSF officers carrying files, cardboard boxes full of papers, and posters out of the office.
An NDI employee who asked not to be named said all the laptops in the office, including employees' personal computers, were seized.
The cabinet announced in September that a Justice Ministry report had identified about 30 NGOs that have been illegally receiving foreign funding and are not registered with the Ministry of Social Solidarity, which oversees such organizations.
Translated from Al-Masry Al-Youm