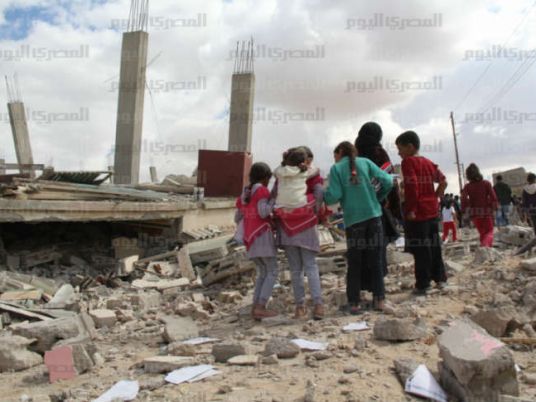 The Egyptian Observatory of Rights and Freedom has criticized the ongoing detentions, displacements and killings resulting from the counter-terrorism operations by the Egyptian army and police forces in the Sinai peninsula.
The organization listed a number of serious "violations" by the military in its campaign against extremist groups in the restive peninsula, including the destruction of personal property, detentions and forced evictions.
Over the past two years, security operations in Sinai led to 11,906 "arbitrary" detentions, the eviction of 3,856 families and the burning of 1,967 civilian-owned vehicles, according to the organization's report.
The enforcement of a state of emergency since October 2014 adds to the citizens' suffering from "bad living conditions and the deteriorating economic situation which contributed to an increase in crimes committed against them", the report states.
Egypt had embarked on the creation of a 2,000-meter buffer zone on the borders with the Gaza Strip, as a means to ensure tighter control over the region, which has witnessed recurrent bloody attacks by Islamist extremists against security forces, leaving hundreds of troops dead since the ouster of former president Mohamed Morsi.
The organization accused the army's spokesperson of using his statements as "a tool to legalize violations", adding that the spokesperson used to refer to those killed in army operations as "terrorists and extremists, without explaining the legal grounds he adopts in making those judgements".
The report concluded with calling upon the military leadership to open channels for the media and human rights researchers to inform the public about the situation in Sinai. It also urged the government to reconcile with the affected citizens and tribes and to compensate them for any damages sustained during security operations.