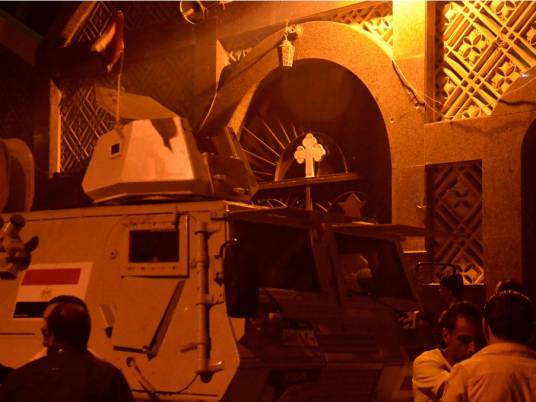 Security services in Giza arrested on Sunday another suspect believed to have fired on the police force tasked with securing the Church of the Virgin Mary in the 6 of October City, leading to the death of policeman Mohammed Taha Abu Hamed.
A man had fired from a moving vehicle on forces deployed at the church on Wednesday. The police have already arrested two perpetrators believed to have been involved in the incident along with the vehicle they had used.
The investigation team has allegedly determined the identity of the five suspected perpetrators, one of whom was Abu Anas, 27, who was arrested.
Abu Anas was arrested in possession of a laptop, a mobile phone and US$1,500.
When under interrogation, Abu Anas confessed to committing the incident in coordination with the two other arrested defendants.
He said that he is a Salafi Muslim. Adu Anas allegedly admitted that during the 25 January revolution and while he was in the Tahrir Square sit-ins, he met with leaders of the Salafi jihadists, most notably leading member Mohamed Al-Zawahiri. They took him to the Sinai region for training in the use of various firearms.
Abu Anas explained, according to investigation records, that he embraces the idea of considering rulers as infidels if they did not enforce the provisions of Islamic Sharia. He allegedly met with the rest of the defendants who shared similar ideas.
The defendant was referred to the prosecution, while security forces continue intensified efforts to arrest the other two fugitive suspects.
Edited translation from MENA