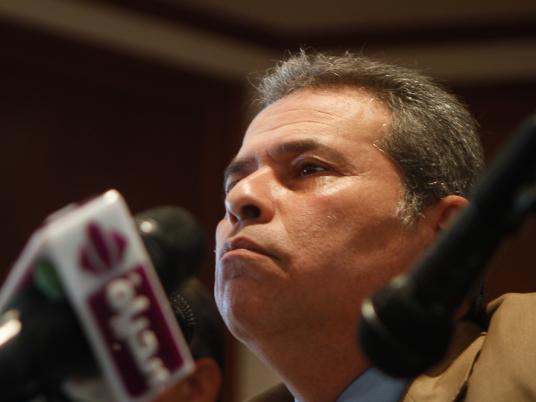 Prominent media figure Tawfiq Okasha won another legal battle Wednesday after he was acquitted of defamation charges against after he won an appeal in a case where he is charged with defaming Leila Marzouk, the mother of Khaled Saeed.
Okasha was sentenced in March to six months in prison for addressing Saeed's mother during his show, "You should have raised your son [better] first, so that he wouldn't have smoked marijuana," before describing Saeed as "the martyr of marijuana."
Police beat Saeed to death in Alexandria in June 2010 while attempting to question him over a video he posted online, later alleging that he was in possession of marijuana at the time. His killing was widely considered to be a key catalyst for the 25 January revolution.
In her complaint, Saeed's mother said that Okasha used his satellite channel to defame citizens and expose the private lives of others.
But the Nasry City Misdemeanor Court found Okasha not guilty Wednesday, one day after the same court acquitted Okasha of defaming President Mohamed Morsy during his talk show "Egypt Today."
Okasha, who is known for his harsh criticism of the Muslim Brotherhood and its political rise since the 25 January revolution, said weeks after Morsy's victory that his presence in the presidential palace was illegal.
The Al-Faraeen channel was suspended on 16 August, and authorities threatened to revoke the channel's license unless it made programming changes.
Okasha is currently is conducting a legal battle in the administrative court to allow him to get the license of his channel back. His lawsuit has been adjourned to 20 October. He also faces other criminal charges for defaming and attempting to incite the assassination of Morsy; the criminal trial for the case will resume on 7 November.