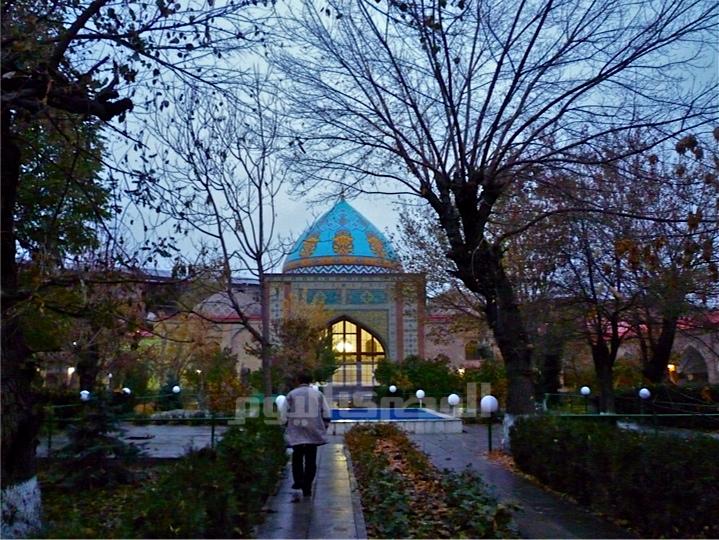 Deserted Soviet factories and trilingual fruit vendors dotted the road leaving Georgia for Armenia. Cliff-hugging routes overlooking dramatic gorges and medieval churches appeared out of snow-filled air. By the time we reached Yerevan, snowflakes gave way to pouring rain.
The character of Armenia's capital is difficult to place. Regal buildings of rose and black basalt stone line wide boulevards, while sidewalk seating hints at a cafe culture waiting for spring to bloom. The focal point is Republic Square, the stonework of which appears as a traditional Armenian carpet from above. At dusk, buildings are illuminated, and residents stroll along the reflecting pool; seasonal live music complements the refined ambience.
Catching a marshrutka (microbus), we reached Vernissage, an open-air bazaar where locals and tourists peruse antique cameras, carved backgammon sets, hand-quilted purses and Soviet memorabilia.
In the Middle East bargaining is a jovial sport; in Armenia, the price is set. Attempting to haggle over a military hat, the seller replied tersely, "I'm an engineer, not a businesswoman." Many of the educated were left behind in the transition from a planned economy to capitalism, and the frustration is palpable.
In a windy underpass, an upside-down policeman was stenciled on the wall, capturing the peoples' mistrust of the police. A graying accordion player — likely a graduate of the state conservatory — let his solemn verses resound through the tunnel, immune to the passersby and the snowstorm.
"Don't talk too much, nothing ever really changes. Nothing ever brings a new and better life. We always stay where we are, and become locked in our memories."
Elderly residents provide the keys to the nation's past. Born in Egypt, 82-year-old Nevart moved with her family to Armenia at 16, part of a 1940s repatriation campaign for the Armenian diaspora to return to the motherland. They were in for the shock of their lives; one year after arriving, they were deported to Siberia along with thousands of members of the anti-Soviet Tashnag Party, whom Stalin feared would encourage Armenian self-determination.
After eight years Nevart's family was allowed back, and she recommenced her studies in Yerevan to become an English teacher. Did she wish she had never left Cairo? Without a trace of bitterness, she said no, "this is our home."
Cash money
Armenia experienced a construction boom in the 2000s, the gem of which is Abovian Street, a Beirut-esque avenue whose luxurious buildings house Western labels, fashionable restaurants and condos. Signs for "Billionaire Italian Couture," where the Armenian Donald Trump might shop, complement the nouveau-riche atmosphere that engulfs the capital. In a resource-scarce country blockaded by two neighbors, the idea of billionaires raises an eyebrow.
Perhaps the most conspicuous feature of the spotless capital is the fleet of Hummers and Mercedes SUVs with opaque black windows parked on every street.
"Armenia isn't controlled by the 10 percent," a local acquaintance observed. "It's controlled by 10 people."
On a circular boulevard, a row of buildings was slated to be demolished. The residents had unfurled banners from the windows; one read: "Yes to renovating. No to demolition." Another featured a Monopoly logo, with the sarcastic caption "National priorities," scorning development at the expense of longtime inhabitants.
Ararat (and) cognac

The most colorful part of our visit was the museum of Sergei Parajanov, the renowned Soviet film director and artist. A brilliant array of eccentric collages, installations and hats fill the sunny Caucasian home, along with captivating pieces created during his prison years. The only political prisoner in a maximum-security labor camp, Parajanov founded an artistic school for the inmates.
Leaving Parajanov's world, we sighted the snow-capped peaks of Mount Ararat, ethereally emerging from clouds on the horizon. Considered the landing place of Noah's ark, the mountain is sacred to Armenians. Located in modern-day Turkey, Ararat's visibility from Yerevan carries an added connotation: Armenia's proximity to its hostile neighbors.
On another hilltop, the Armenian genocide memorial pays tribute to victims of the event and the foreign observers who tediously documented their fate in the early 20th century. Walking through timelines of journals, photographs and events provides not only an acute reminder of the horrors which took place, but also solace to survivors and their descendants — that while injustices may be whitewashed, they cannot be erased.
As it stands, Turkey and Armenia maintain a peaceful lack of peace. Despite a closed land border and no official relations, there is a curious direct flight from Istanbul to Yerevan.
A survivor mentality persists nonetheless; Armenia's Matenadaran — one of the world's richest collections of medieval texts — possesses a marble vault to preserve the collection against nuclear holocaust. Illuminated Armenian manuscripts and ancient Arabic, Assyrian, Hebrew, Russian and Persian texts are on display for the public.
Outside Yerevan, Garni and Geghard are essential sights. The latter, a fourth-century monastery set among soaring cliffs, was founded by Saint Gregory the Illuminator, revered for converting Armenia to Christianity. Inside the meditative stone sanctuary, carved into the mountain, the only sound is the spring of melting snow that flows throughout.
Panthenon-like Garni offers clues to Armenia's pre-Christian past. But the temple is not Armenia's only pre-Christian heirloom. Tyarndarach, a fire-worship holiday, and other ancient rituals became intertwined with the national church.
Armenian cuisine is half the reason to visit, with fine- and budget-dining establishments alike offering fresh and healthy ingredients. Among Anteb restaurant's Western Armenian dishes, standouts are chee kufta — ground lamb served raw with bulgur, parsley, mint and scallions — and mante, toasted ravioli bows encasing spiced meat, topped with tomato sauce, yogurt and cumin. Caucasus Tavern serves an inexpensive array of regional selections, from succulent grilled kebab to fruit-infused vodkas.
Returning to Yerevan, we purchased the famed Ararat cognac. Upon winning the Grand Prix award in Paris in 1901, the Yerevan Brandy Company could legally use the term "cognac." The factory holds regular tours and tastings. Local pomegranate wine offers a delicious alternative.
Last night in Eden
As our trip wound down, we met a young local couple, Hovig and Angine, from Syria and Iran, who began architecture careers in their motherland. When Hovig's family emigrated from Damascus, his friends questioned his decision. "Now they say I was right," he said. Angine's visits to her parents in Tehran are a bus ride away.
Fresh from a weekend in Tbilisi, they were still on cloud nine. Even McDonald's — nonexistent in Syria, Iran and Armenia — was a treat; you could still see the Happy Meal in Hovig's eyes. We reminisced about Georgia's generous people, scarcely remembering the language barrier between the neighbors, each with their own unique language.
"The Armenian alphabet came to Mesrob Mashtots in a vision…. Georgians threw spaghetti at the wall," Hovig grinned, referring to the latter's curlicue letters.
Laughter gave way to downcast faces, as we discussed the optimism of Georgia's people and economy. Excluded from regional oil projects and threatened by renewed war, Armenia seems destined to remain two steps behind.
Angine lamented that while old Tbilisi is largely intact, Yerevan's historic buildings are demolished in favor of flashy developments. Purposefully, we had gathered at Eden, a high-ceilinged brick tavern in one of Yerevan's rare historic buildings. No sooner had the topic arisen than the owner announced that the following night would be the last hurrah.
"The building will be torn down to make a parking lot for a new hotel," he sighed.
We left with heavy hearts, feeling that the future of Eden, and Armenia, was out of anyone's control.
On our last day, Yerevan's Persian Mosque beckoned us to explore. Its unassuming gate led to a grand courtyard, the ornate blue mosque at the far end. Dating to Nadir Shah's reign, the complex was restored by Iran in the 1990s. On the minaret flies the Islamic Republic's flag, a testament to the unique alliance of the two nations.
For young Iranians, who flock across the border during summer, Armenia offers an escape from imposed religion. The 2011 Nowruz holiday alone brought 12,000 Iranians. Yerevan provides a rare venue to hear exiled singers; in the Islamic Republic, concerts are generally banned.
Last, we visited Yerevan's spectacular covered bazaar, whose entrance is a bronze screen of ornate vines. Inside lies a feast for the senses: fresh cheeses stacked amongst apricot preserves, and walnuts wrapped in dried fruits. Vendors sent us off with mouthwatering luggage.
Months later, an article about protests in Yerevan caught my eye. Armenians had formed a human chain around the former Eden building, calling on the authorities to halt its destruction. Astonished, I contacted Angine to learn the building's fate. It was not torn down, she blissfully confirmed.
Historical preservation is a battle in any country, often overpowered by more dominant issues. But Armenians are used to fighting for their history.