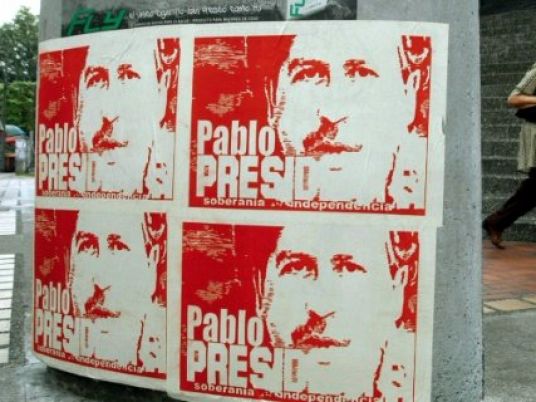 Pablo Escobar may have died more than 20 years ago but you'd think the Colombian drug lord synonymous with power, violence and money is back, what with all the TV shows and movies about him.
Escobar was a charismatic man who rose from middle-class nothingness to run a mighty cocaine cartel that fought wars with rivals and became responsible for most of the cocaine imported into the United States in the 1980s and early '90s.
In his prime, he was one of the world's richest men.
For many Colombians, especially the poor in his native Medellin, Escobar was a Robin Hood who used his seemingly bottomless wealth to build schools and such and otherwise flaunt his largesse.
Tom Nunan, producer and lecturer at UCLA School of Theater, Film and Television, likened Escobar to an irresistible badboy figure, someone who breaks all the rules and laws.
"They are unpredictable, so it makes them fascinating. Peculiar, unique and compelling figures, whether we'd like to admit it or not," he told AFP.
"When you have a crime figure who is as colorful as Escobar, it only makes it easier to kind of digest the story," Nunan added.
One of the conduits for reliving Escobar's story is "Narcos," the drama series created by Netflix for its entry into Latin America and which is competing at the Golden Globes Sunday for best series and best actor.
Brazilian actor Wagner Moura plays Escobar, who battled not only the rival Cali Cartel but the Colombian government itself, and came to dominate the cocaine market.
Escobar is said to have flirted with the idea of becoming Colombia's president, and in a sign of his power — and his quest to guarantee his personal safety — once offered to pay off Colombia's foreign debt, just like that.
The worldwide hit is told from the perspective of DEA agent Steve Murphy, who chased the drug baron down until his death in 1993 — in a shootout with police in Medellin as Escobar scurried across a rooftop, trying to escape.
Besides "Narcos," other Hollywood productions are trying to quench people's thirst for the larger-than-life figure.
"We glorify them," Nunan said of people like Escobar. "Particularly the ones portrayed by movie stars, and they become pop icons."
In 2014, Oscar-winning Puerto Rican actor Benicio del Toro, zeroed in on the more personal side of the cocaine scion in the film "Escobar: Paradise Lost."
Yet more Escobar related entertainment is coming out next year.
In a film called "Mena", Tom Cruise will play the American pilot Barry Seal, who worked for Escobar's cartel. And the Colombian actor John Leguizamo will have a go at playing Escobar in "El Patron," which translates as the boss.
Spanish actor Javier Bardem and his wife Penelope Cruz will star in "Escobar", based on the memoirs of a journalist named Virginia Vallejo — Escobar's favorite mistress and a woman with whom he practically carried on a double life.
Why all the Escobar-mania just now?
"It is really just a coincidence because there has always been interest in Escobar," said Nunan.
From Pablo to 'El Chapo'
All this Escobar fever has not gone down very well in Colombia, even though his native country gave rise in recent years to telenovela soap operas entitled "El Capo" (another word for boss) and "Escobar, el Patron del Mal".
Many Colombians are angry with Netflix for having chosen the life of Escobar as its debut homemade offering in Latin America, rather than try to see beyond the problem of drug trafficking which for years has stigmatized the region.
Omar Rincon, TV critic for the Colombian newspaper El Tiempo, said the streaming service chose this story as a sure-fire hit because "Pablo Escobar brings in money even as a dead man."
Moura, the actor who plays Escobar for Netflix, defended the series in a recent interview with AFP, saying drug trafficking is a reality for all countries of Latin America and is therefore an issue that must be addressed.
"The series tells how it started, how they got involved in that war on drugs (with the United States) and how they turned it into a misguided war," Wagner said.
Obsession with Escobar may soon face competition from Joaquin "El Chapo" Guzman, Mexico's answer to the late Medellin drug baron.
Next week will see the opening in Mexico of "El Chapo: El Escape del Siglo", ("El Chapo: The Escape of the Century" which is about his second escape from prison.
Guzman's six months on the lam ended Friday, coincidentally, when police caught him again — a victim of his desire to see his own outsize legend represented on the big screen.
Six months after his daring escape, authorities located Chapo thanks to the kingpin's bid to make a biographical film about himself, according to Attorney General Arely Gomez.
Hollywood is already at work getting ready to tell the story of Guzman, whose wealth and corruptive power were on par with those of Escobar in his day.
"It's never been a particularly successful sub-genre, the drug lord sub-genre. There is no risk of saturation," said Nunan.