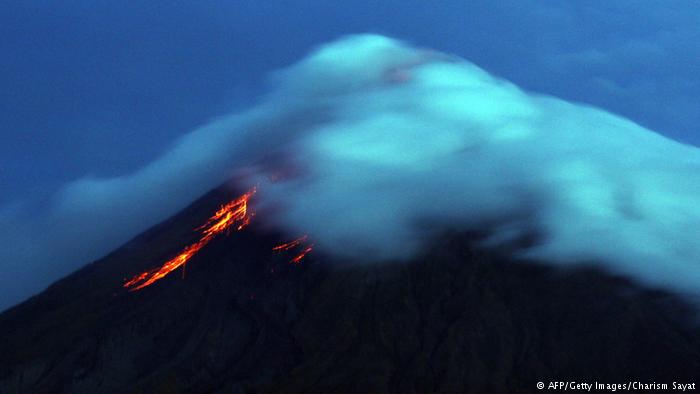 More than 12,000 people in the Philippines have evacuated areas near Mayon Volcano, as experts warn of a possible "hazardous eruption." The lava flow has reached some areas around three kilometres away from the volcano.
More than 12,000 people in the Philippines have fled their homes near Mayon Volcano, 330 kilometers (205 miles) south of Manila, as the volcano continued to erupt for a third day on Monday, ejecting a cloud of searing gas and ash.
The Philippines ordered the forced evacuation of people from two more municipalities near the volcano, as the country's chief volcanologist warned of a possible hazardous eruption "within weeks or even within days."
"There is an ongoing forced evacuation from the municipalities of Daraga and Legazpi because of the lava flow," Romina Marasigan, spokeswoman for the National Disaster Risk Reduction and Management Council, told reporters.
"The lava flow has reached some areas around three kilometres away from the volcano," Marasigan added.
Mayon showed a bright crater glow on Sunday, signifying lava had started to flow from the crater.
Volcano raised to level three
According to the Philippine Institute of Volcanology and Seismology (Phivolcs), at least two steam eruptions were recorded before noon (local time) on Sunday. By evening, the institute had raised the alert level at the mountain to three.
"This means that Mayon is exhibiting relatively high unrest and that magma is at the crater and that hazardous eruption is possible within weeks or even days," Phivolcs said.
Level three is considered "critical" while level four indicates an eruption is imminent. Level five signals that an eruption is underway.
The organization said it had been expecting an eruption since the volcano began acting abnormally last year. It urged residents to stay away from a 7-kilometer danger zone around Mayon's crater.
Mayon Volcano is the most active in the Philippines. Its deadliest eruption came in 1814, when 1,200 people were killed and a town was buried in volcanic mud. Another eruption in 1993 killed 79 people. Its last deadly eruption came in May 2013, when it killed five hikers and injured seven others.
Marasigan said the displaced residents have taken shelter in schools turned into evacuation centers. "The number of displaced residents could still go up if the threat of more phreatic eruptions increase," she added.
A phreatic eruption is a steam eruption that occurs when groundwater is heated by magma. The extremely high temperature of the magma causes almost instantaneous evaporation of water to steam, which results in an explosion of steam, water, ash, rock and volcanic bombs.
The 2,472-meter (8110-feet) volcano has erupted about 50 times since 1616.