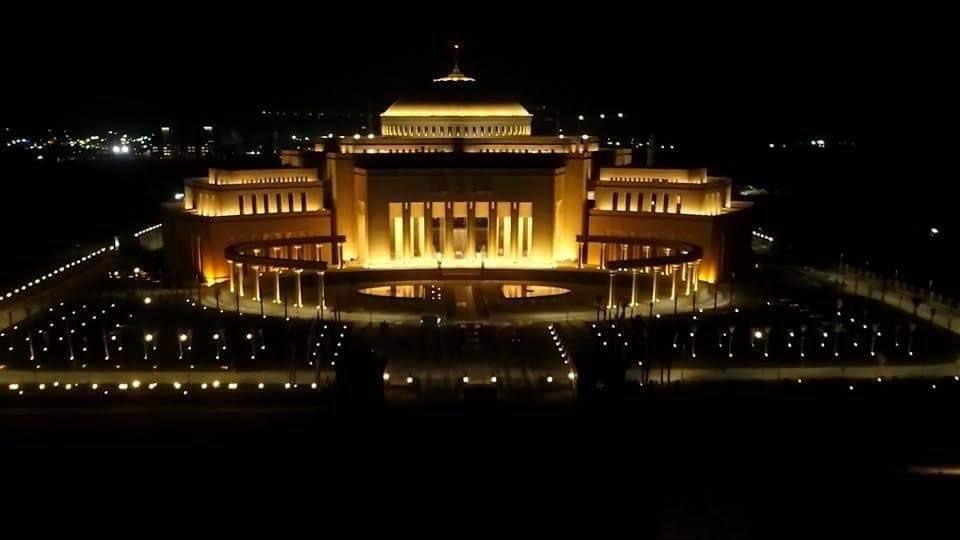 More than 7,500 people including workers, supervisors, engineers, and technicians are currently constructing the largest administrative project implemented by the Arab Contractors Company since the company's inception – the new parliament building in Egypt's New Administrative Capital.
Work began on the building about two years ago and is ongoing daily, with three shifts per day. The building is scheduled to be inaugurated in June.
Project director Tariq Safey Eddin spoke of the project with Al-Ahram newspaper during a tour of the site, saying that the project consists of a main building on a total area of ​​18,000 square meters.
"The Arab Contractors Company received the project land in October 2017, with an area of ​​26 feddans, equivalent to 110,000 square meters. The building area is ​​225,000 square meters," he added.
The building consists of a basement, a ground floor and eight additional floors. The main council hall stands in the center of the building and includes an upper dome that is 65 meters high. The main hall will accommodate 1,000 MPs, and the building also has administrative offices.
Next to the building is an underground garage that can accommodate 1,500 vehicles. In the immediate area sits a medical center, a security building, a fire station, internal roads, and green spaces.
Safey Eddin explained that the construction of the central dome, which is held up by 24 columns, took about three months. 
Work on the building continued for 24 hours over two years by more than 7,000 Egyptian workers, including 300 technical supervisors and 220 engineers from all specialties.
Construction is nearly finished, Safey Eddin said, with just the final touches left, including furnishing and housing tests.
He pointed out that the building will digitize entry authorization for MPs, employees, and service workers, a serious technological upgrade compared to the old building.