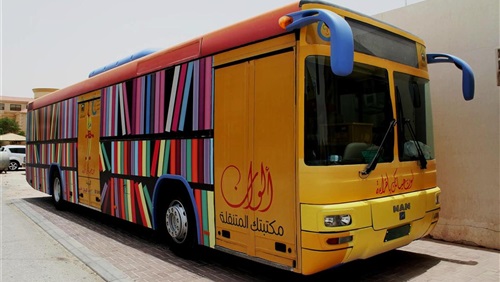 Egyptians are not the most famous bookworms in the world. 14.3 million people in Egypt were reported by CAPMAS in September 2017 as being iliterate. Even when children get an education they are not encouraged to read at home. With the low education standards in Egypt, some graduate with very basic reading skills.
However, one revived project of trucks with lots of new books are hoping to change that. Minister of Culture Inas Abdel Dayem will witness tomorrow morning the re-opening of Cairo's portable libraries, as they launch from Azhar Park to Asmarat loaded with children and adult books. The library will park in Asmarat till February 8 then embark on a journey to different neighborhoods in Cairo in a project that aims to achieve equality in cultural literacy.
The project is launched in cooperation with the Egyptian National Library and Archives headed by Ahmed Shawky, the General Authority for Cultural Palaces headed by Ahmed Awaad and New Egypt Organization, a top-notch civil society cultural organization.
The books will be completely free of charge as will entering the portable library for browsing.
Minister of Culture Inas Abdel Dayem told Al-Masry Al-Youm that the current cooperation between the different sectors within the Ministry of Culture and the different civil society organizations ensures a better life for citizens and society by solving hurdles that neither party can solve by itself.
As for Shawky, he stressed that the libraries are completely free of charge and applauded the move as a serious step towards raising literacy in Egypt.
This is not the first time this project has gone into effect in Egypt. In 1984, the portable library project began with two libraries. One truck was designed for borrowing books and the other one to sell them. The following year both libraries became only for borrowing books.
In 1998 the Ministry of International Cooperation was asked to help provide three more portable libraries, which it did.
Each library was loaded with 3000-4000 books. The project failed several years after its start due to most workers preferring to work in stationed libraries.
The project was rebooted again in 2010 but failed by 2012 due to the parking rules for the trucks. As they were only allowed to park in specific places people.