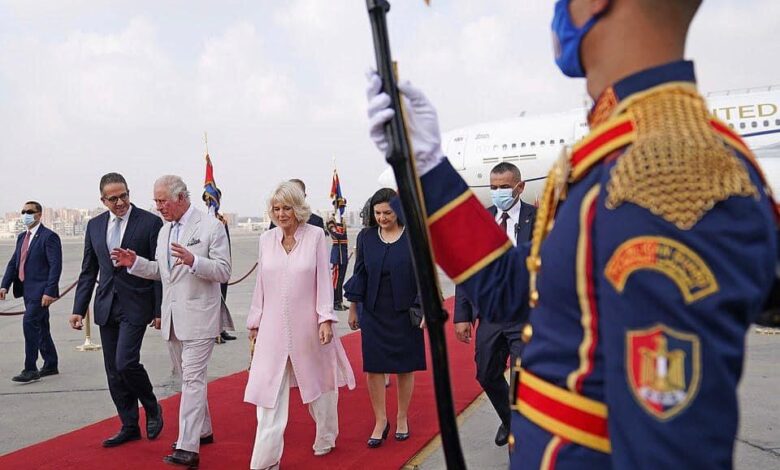 Prince Charles said in a speech at a reception at the Pyramids of Giza area that he was happy to visit Egypt after 15 years with his wife, Duchess Camilla of Cornwall.
He really focused and praised Egypt's keenness to reduce the effects of climate change and mentioned it as an important initiative.
Prince Charles began his speech by saluting "Peace be upon you", and spoke about the importance of Egypt, and his fond memories.
Speaking about Egypt, he said in Arabic: "Whoever drinks from the waters of the Nile will return to the country again," stressing the strength of the UK-Egypt relations despite the challenges. "It is our duty to do everything in our power to protect the environment, and we must strive to protect the legacy of our ancestors, who cared for nature," Charles said.
He also said that it was surprising that the ancient Egyptians implemented a system to protect the environment due to their awareness of the importance of preserving the environment.
Prince Charles said he met some skilled craftsmen at Bait al-Razzaz, who have sufficient knowledge and experience to provide for a feasible industry.
The three monotheistic religions instruct preserving the environment, and preserve it for future generations, he added, explaining that this idea was the idea of ​​a speech he gave years ago at Oxford University, entitled "Islam and the Environment."
Prince Charles said he remembered, when visiting Al-Azhar Mosque, how the Holy Quran urged the preservation of nature through 200 verses.
He also said that when he talked with Pope Tawadros, he found that the Gospel urged the same idea of ​​preserving nature and creatures. The common link between all religions is that humans are to be merciful to their surroundings, Charles continued.
The public and private sectors along with the civil society need to join efforts to reduce Carbon emissions, which will benefit the global economy effectively, create millions of job opportunities by 2030, and contribute to reducing pollution, he added.
Charles said he would meet with some entrepreneurs in Alexandria to listen to their ideas. The British ambassador to Cairo welcomed Charles, and saying the visit represented the re-communication between the Egyptian and British public, despite the challenges of the coronavirus.
He referred to climate change as a threat, no less dangerous than the pandemic, which prompted Charles to make climate change the priority of his tour.
The ambassador added that the UK and Egypt were seeking to form a strong partnership on the climate issue, as the UK hosted COP26, and Egypt will host the next summit in 2022.