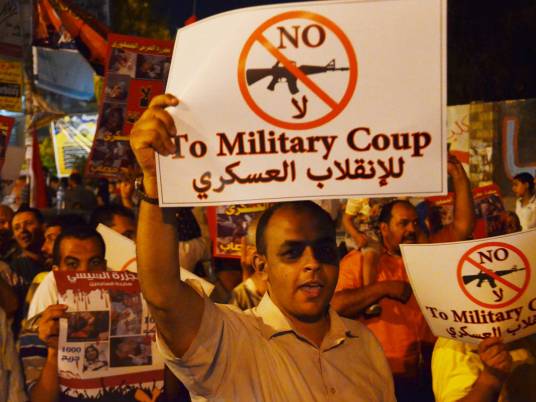 Supporters of toppled President Mohamed Morsy have continued their Rabea al-Adaweya sit-in for a 19th day, as organizers ratchet up protests demanding Morsy be reinstated as leader of Egypt.
Pro-Morsy protesters have threatened to escalate their campaign in protest against the president's ouster, led by opposition politicians and the army led by General Abdel Fattah al-Sisi.
Some protesters have threatened to besiege the Cabinet, days after a new administration was announced by interim President Adly Mansour and Prime Minister Hezam al-Beblawy.
"There will be protests at the illegitimate Cabinet headquarters to prevent the ministers from working," one of the protesters said.
Other marches will reportedly head to Maspero and Egyptian Media Production City (EMPC) to denounce media coverage of pro-Morsy demonstrations.
One march could even head to Cairo International Airport, protesters said.
Demonstrators threatened to block railways and Metro lines as part of the planned escalation against the military coup.
A speaker on the main stage at Rabea al-Adaweya announced seven marches starting from Giza, Dokki, Haram, Feisal and Omarniya, as well as al-Esiqama and Mostafa Mahmoud mosques, would join the sit-in on Saturday.
Former Supply Minister Bassem Ouda attacked Sisi on the stage, claiming the coup was carried out due to fears Morsy was too successful and had begun to control the state through the Cabinet, which had plans to face off Egypt's problems.
"One of this age's wonders is to find the defense minister saying President Morsy twice refused to conduct a referendum," he said. "I tell him: what have you done? You suspended the constitution, dissolved the Shura Council, and toppled the elected president."
"[Sisi] said Morsy was not a president for all Egyptians, and I tell him you were not a defense minister for all Egyptians."