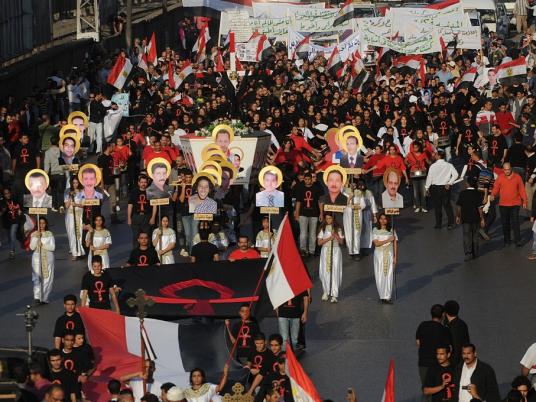 A public prosecutor has imposed a travel ban on prominent Coptic activist Michael Mounir as part of an investigation into the violence that erupted outside the Maspero state television building last October.
Tharwat Hammad, a prosecutor tasked by the Justice Ministry to head the investigation, said the travel ban also applies to 20 other suspects.
Mounir, who heads the US Copts Association, is currently attending a conference on the Egyptian revolution in the Netherlands.
In a Thursday phone interview, Mounir told the German DPA news agency that the travel ban issued against him is politicized. He added that he has asked his lawyer to follow the developing investigation before he returns to Cairo within two days. He also stressed that during the Maspero incident, he was at home with a cast on his leg.
Mounir objected to the Coptic Orthodox Church's discouraging of Copts to join in the January 2011 uprising that toppled former President Hosni Mubarak.
On 9 October late last year, violence erupted between military forces and demonstrators during a Copt-led march to Maspero denouncing increasing assaults on churches around the country. The incident left 27 dead, mostly Copts and one soldier.
On 9 February, 28 suspects were placed under travel bans pending the investigation. Those banned include two priests and a Coptic lawyer who have been accused of incitement, premeditation and involvement in the Maspero violence. They were also accused of involvement in stealing weapons from the armed forces, attempting to invade the Maspero building and destroying property.