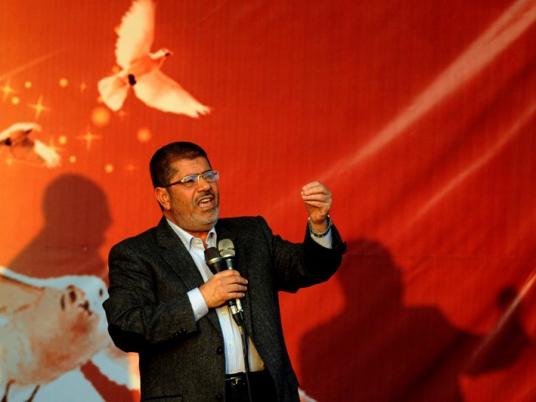 President Mohamed Morsy is looking for a way to delay the referendum on the new draft constitution that will not contradict his constitutional declaration, Prime Minister Hesham Qandil said on Saturday evening.
Morsy's 22 November constitutional declaration puts his decisions above appeal. The declaration was supposed to be valid until until a full constitution is ratified.
Speaking on the 90 Minutes program on the Satellite Mahwar channel on Saturday evening, Qandil said Morsy has "no objection" to delaying the referendum.
Qandil said that the disagreements over the declaration should be resolved at the negotiating table, not on the streets through violence and demonstrations.
Qandil also said that following the "national dialogue" meeting that Morsy called at the presidential palace on Saturday, that participants had agreed to form a committee that will amend the text of the 22 November constitutional declaration which expanded Morsy's executive and judicial powers.
Morsy had earlier said that he would not be participating in the meeting so as to ensure the neutrality of its outcome.
Qandil, said that the committee would consist of Mohamed Selim al-Awa, Mohamed Mahsoob, Ayman Nour, the constitutional expert Tharwat Badawi, Ahmed Kamal Aboulmajd, and Gamal Gibril.
He added the committee's draft will be issued in the form of a new constitutional declaration.
Qandil also said the president had been seeking suggestions for how to reassure citizens.
"I was grieved by the description of the president as a dictator, when he is working to fix the state institutions," he said.
The prime minister also stressed that the economic slump was the country's biggest problem, and that a constitution and stability could help it recover financially.
"If the cares of the Egyptian elite are heeded about the constitution's substance and timetable, we will not even find ground beneath our feet to stand on, we will loose everything," he said. "Because the economy has been destroyed, and scenes of killing and vandalism have set us on a dark path."
Edited translation from Al-Masry Al-Youm