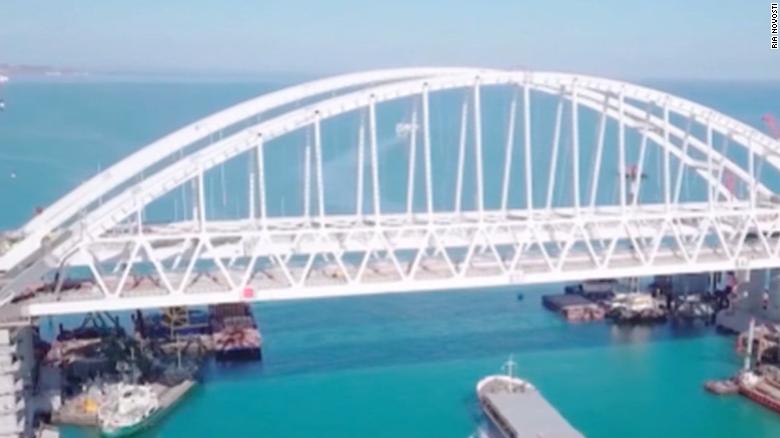 Russian President Vladimir Putin on Tuesday will mark the opening of the Kerch Strait bridge, a construction project that has become a metaphor for his 18-year rule.
The 19-kilometer bridge, now the longest in Europe, links Russia's Krasnodar region with the Crimean peninsula, annexed by Russia from Ukraine in 2014. And its opening, in Russia's official narrative, marks the physical "reunification" of Crimea with the Russian mainland.
But it's also a symbol of Russia's international isolation. Russian special forces seized Crimea in a lightning operation in February 2014. The Kremlin at first denied that the troops — masked men in camouflage without unit insignia — were Russian military, but later acknowledged that the so-called "little green men" were indeed Russian units. The West responded swiftly with crippling economic sanctions.
Those sanctions remain in place, and have expanded in the wake of Russian meddling in the 2016 US presidential elections. But the completion of the bridge to Crimea became a major priority for Putin's government.
Once fully completed, the road and rail link will be able to handle 40,000 cars a day and to move 14 million passengers and 13 million tons of cargo per year, according to state news agency RIA Novosti.
US Sanctions
Construction of the bridge began in February 2016. Later that year, the US Treasury Department slapped a series of sanctions on seven companies involved in the construction of the bridge.
Those sanctions, in effect, targeted a member of Putin's inner circle: The primary contract for the bridge's construction was awarded to a unit of Stroygazmontazh, a firm controlled by Arkady Rotenberg, a childhood friend of Putin and his former judo sparring partner.
Rotenberg was already under sanction for his ties to the Russian leader. The Treasury Department says Arkady Rotenberg and his brother Boris have been some of the primary beneficiaries of their closeness to Putin, receiving around $7 billion in contracts for the Sochi Winter Olympics, another prestige project for the Russian President.
And Putin is planning other grandiose infrastructure projects to boost Russia's national prestige. Last year, he touted a new plan to build a bridge to Sakhalin, a resource-rich island in Russia's far east that is north of Japan's northern island of Hokkaido.
It's a plan that potentially could have far-reaching economic impact.
"If we could reach an agreement with North Korea and the Republic of Korea to connect the Korean Railway and the Trans-Siberian Railway, and we are also considering a bridge between Sakhalin and Hokkaido, this would combine to produce a project on a planetary scale, which can lead to significant changes in infrastructure, power generation and the high-tech sphere," he said last year.
Powerful Symbol
But for now, the opening of the Crimea bridge is about symbolism as much as it is about building economic links.
The United States and most other countries have refused to recognize the annexation of Crimea, and sanctions on Russia don't seem likely to be lifted anytime soon.
But for the Russian government, the annexation of Crimea and the opening of the bridge are a point of patriotic pride. In Putin's own words, the matter is closed — and Crimea will never be returned to Ukraine.
Asked in a television interview earlier this year if there were circumstances that would allow the return of Crimea, he replied: "There are no such circumstances and there will never be."