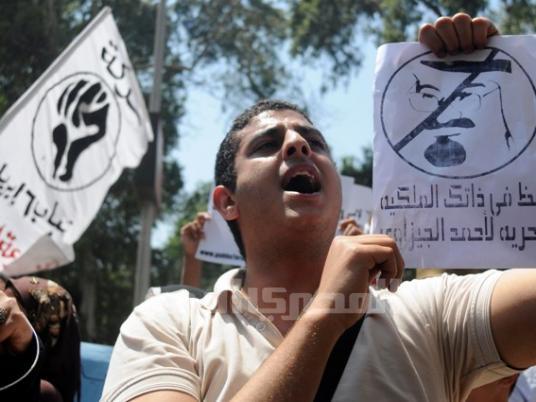 Saudi Ambassador to Egypt Ahmed al-Qattan on Tuesday accused the wife of detained activist and lawyer Ahmed al-Gizawy of jeopardizing bilateral relations between his country and Egypt.
In a statement issued by the Saudi Embassy in Cairo, Qattan denied that the Saudi authorities decided to execute Gizawy.
He also said that the Egyptian President Mohamed Morsy did not call the Saudi crown prince to discuss that issue.
Qattan said Gizawy's wife, Shahenda Fathy, was not right in saying that her husband is on death row waiting to be executed by the sword.
"This aims to incite the Egyptian public and jeopardize bilateral relations," the statement said. "She had earlier claimed he was sentenced to 20 lashes."
"The Egyptian people will not believe these obvious lies that were refuted by the Egyptian Foreign Ministry," he added.
He pointed out that Gizawy has not been sentenced yet. "Any sentence would be commensurate with the offense he committed, like the rest of the violators of the laws of the Kingdom of Saudi Arabia," he said.
Gizawy's arrest on 17 April sparked protests at the Saudi Embassy in Cairo that led to the temporary withdrawal of Qattan to Saudi Arabia. Prior to his arrest, Gizawy had filed a lawsuit against the Saudi authorities over their treatment of Egyptians.
The ambassador returned to his post in Cairo after an Egyptian parliamentary delegation visited the kingdom.
Edited translation from Al-Masry Al-Youm