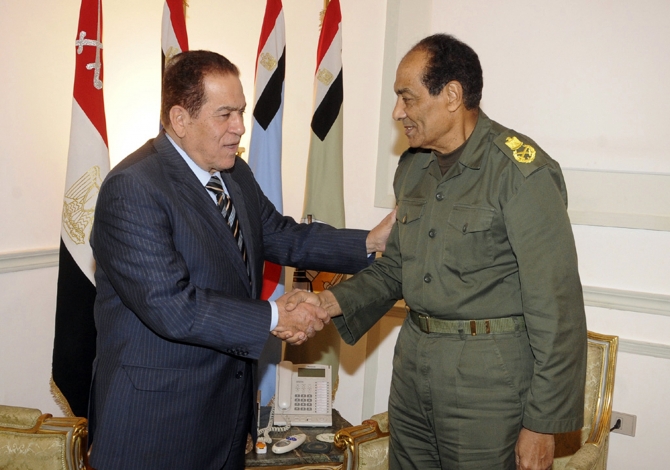 Freedom and Justice Party MPs have continued to call for the dismissal of Prime Minister Kamal al-Ganzouri and his cabinet on while a high-level source told Al-Masry Al-Youm on Tuesday that the military council is attempting to mediate between the Muslim Brotherhood and the cabinet.
The current cabinet is a temporary one that does not have the confidence of Parliament's two chambers, said Mohamed Morsy, the chairman of the FJP.
During a meeting on Monday with Danish Ambassador Kristian Hope, Morsy said that all of the People's Assembly's committees had rejected the government's statement and that a new government backed by a parliamentary majority must be formed immediately to coordinate efforts towards solving the country's security and economic problems.
FJP MP Khalid Mohamed told Al-Masry Al-Youm that the FJP rejects the government's statement and would not back down or give up on the withdrawal of confidence.
He said that the withdrawal of confidence would only take a week or two.
If the Supreme Council of the Armed Forces refuses to dismiss the government after the Parliament withdraws confidence, Mohamed said, this would show that the military council does not respect the Parliament.
Mohamed denied that Field Marshal Hussein Tantawi had intervened in an attempt to calm matters between Parliament and the Ganzouri cabinet.
However, a high-level source told Al-Masry Al-Youm that the SCAF is attempting to reach an understanding between the Muslim Brotherhood and Ganzouri's cabinet.
The source, who requested to remain anonymous, said the SCAF will propose the dismissal of up to two ministers in exchange for the Ganzouri cabinet remaining in place until the end of the transitional phase.
The source told Al-Masry Al-Youm that "an understanding will be reached between the government and the Brotherhood through the SCAF," and that he expects Insurance and Social Affairs Minister Nagwa Khalil and Justice Minister Adel Abdel Hamid to be dismissed.
"Ganzouri will be consulted about the limited changes to avoid any clashes with Parliament during this stage in which preparations are being made for the presidential election," said the source.
The source added that "despite the MPs attacks on Planning and International Cooperation Minister Fayza Abouelnaga, she will not be dismissed because of Ganzouri and the SCAF's confidence in her performance during the recent period."
Meanwhile, Nour Party spokesman Yousry Hammad said a meeting was held between the head of Nour and Ganzouri to urge the government to pay more attention to important issues during the coming period, including security and economic issues, and to provide a decent living for all Egyptian citizens.
He said that the Nour Party would give the cabinet a two month period to correct its policies.
Hammad went on to say that Ganzouri promised his cabinet would abide by the party's demands, most importantly the restructuring of the Interior Ministry and the restoration of security on the streets of Cairo.
Translated from Al-Masry Al-Youm