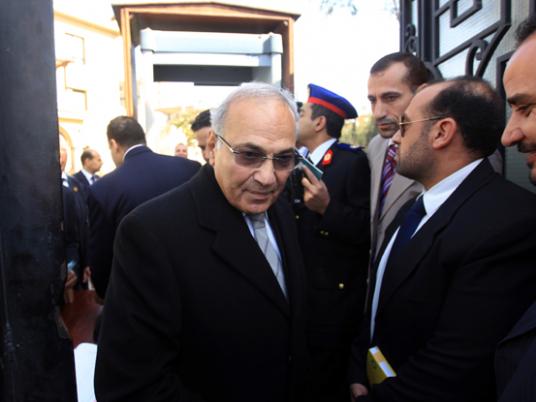 A representative for presidential hopeful Ahmed Shafiq on Wednesday appealed a decision made to exclude the former prime minister from the upcoming race.
Judicial sources told Al-Masry Al-Youm that Presidential Elections Commission head Farouk Sultan would set a date within hours to consider the appeal, saying Shafiq had the right to appeal the political isolation law over its constitutionality.
Dozens of Shafiq supporters held a silent protest outside the Aal Rashdan Mosque in Nasr City in solidarity with him.
The protesters carried banners that read, "Please do not muzzle my voice," "We asked for justice, they gave us [political] isolation" and "It's no one's right to confiscate our right to choose."
Mahmoud Ismail, one of the protesters, said he came to the protest to thank Shafiq for his achievements over the past years, regardless of the outcome in the election.
"Just because the Hosni Mubarak days were bad does not mean that everyone who worked with him was bad, and we should not tear down all of our icons as we are currently doing to Egypt's grand mufti, the Al-Azhar sheikh and anyone who makes a small mistake," he said.
Ahmed Atta, another protester, said the protesters came to declare in solidarity with Shafiq "until he gets his rights back," and to stress that the "judiciary will give Shafiq his rights, and he will be the next president of Egypt."
A group called the Shafiq Youth Movement had called for the protest on its Facebook page after the commission issued the decision to exclude Shafiq after the Supreme Council of the Armed Forces approved the political isolation law.
The law prevents certain officials who served under Hosni Mubarak from exercising their political rights.
The commission also announced that the final list of presidential candidates would be announced at 12 pm on Thursday.
Edited translation from Al-Masry Al-Youm