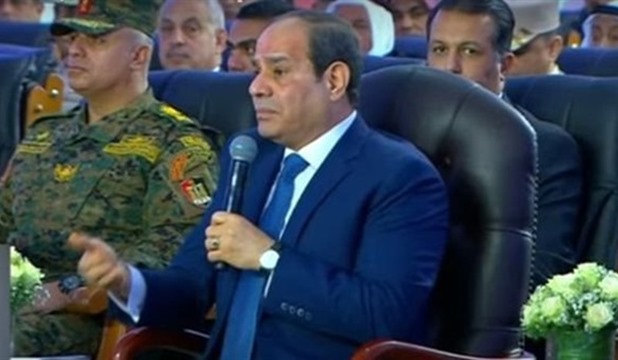 President Abdel Fattah al-Sisi attended Monday in Ismailia a ceremony for the inspection of the equipment used in the Sinai development and reconstruction process.
The event is attended by Prime Minister Moustafa Madbouli, Defense Minister Mohamed Zaki and a number of senior state officials.
The event started with reciting some verses of the Quran, then the premier delivered a speech on the state's efforts over the past nine years to realize development in Sinai as well as the future plans in this regard.
He said the state has chosen to combat terrorism in parallel with developing Sinai.
He noted that Sisi underlined that no one can separate Sinai from Egypt.
Prime Minister Moustafa Madbouli said the state's most important projects in Sinai over the past 30 years are the project of Port Said zone (or Sharq El Tafreea) and the industrial zone as well as the ongoing venture of land reclamation along Sheikh Gaber canal.
These projects have not been finalized for several reasons and impediments since the 1990s, he said.
He referred to a survey conducted by the cabinet information center in 2010 in which about 63 percent of Sinai people voted that water shortage was behind the problems facing them, while 50 percent attributed their problems to lack of transportation and connection with other country parts, and 25 percent for lack of education, electricity and health services.
The premier said about EGP 610 billion are invested in development projects in Sinai.
Within this context, five tunnels at EGP 35 billion were erected under the Suez Canal alongside the already established tunnel of Martyr Ahmed Hamdi.
He noted that seven floating bridges were also built at EGP 1 billion.
The premier's speech was followed by a documentary film on Sinai that was produced by the Armed Forces Department of Morale Affairs.
The film highlighted the obstacles that were facing Sinai development including lack of funds, terrorism and insecurity.
The film added that the current wise leadership placed Sinai at the top of its priorities and worked on securing needed funds, confronting terrorism and restoring security in various parts of Sinai.
The film said this march of development started with digging the New Suez Canal in a record time of one year, referring also to major fish farming projects and cleansing lakes using giant dredgers.
The film also noted that a huge roads network, bridges and tunnels were built, thus paving the ground for establishing new housing projects, including three new cities; namely the New Ismailia, New Rafah and Salam Misr.
The film referred to social housing projects in various parts of Sinai in addition to 45 modern bedouin communities with new schools and universities.
The film noted that several new hospitals were established in addition to 22 water desalination and filtering stations.
The film added that the state is exerting great efforts to increase agricultural lands in central and north Sinai.