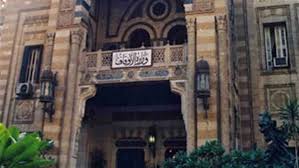 The Ministry of Awqaf [Endowment] has listed Al-Awqaf Authority's assets and funds with the aim to re-use them and maximize state revenues, upon President Abdel-Fattah al-Sisi's orders, sources told Al-Masry Al-Youm.
Investment banks, including EFG-Hermes and Beltone Financial Holding listed the authority's shares in several companies — either listed or unlisted in the stock exchange — in preparation for selling them, governmental sources added.
"The Awqaf Authority is interested in selling shares which it has owned in industrial companies since the 1950s and 1960s. The State Land Survey Committee, chaired by Assistant to the President for National Projects, Engineer Ibrahim Mehleb, has already listed the authority's several lands as being an important asset," a source added.
According to the sources, the price of authority's land totals LE 450 billion, with expectations to reach LE 700 billion after completing the land survey, in addition to having cash payments worth LE 2 billion.
Sources referred to President Sisi issuing a decree not to register or deal any piece of land belonging to Ministry of Awqaf in Notarization and Authentication authority except with the approval of the authority.
Sources in the Ministry of Endowment said that the ministry will legalize around 40 thousand encroachments on the ministry's lands by the so-called land replacement system, giving one month period for the beneficiaries of lands to complete the legalization measures.
Edited translation from Al-Masry Al-Youm