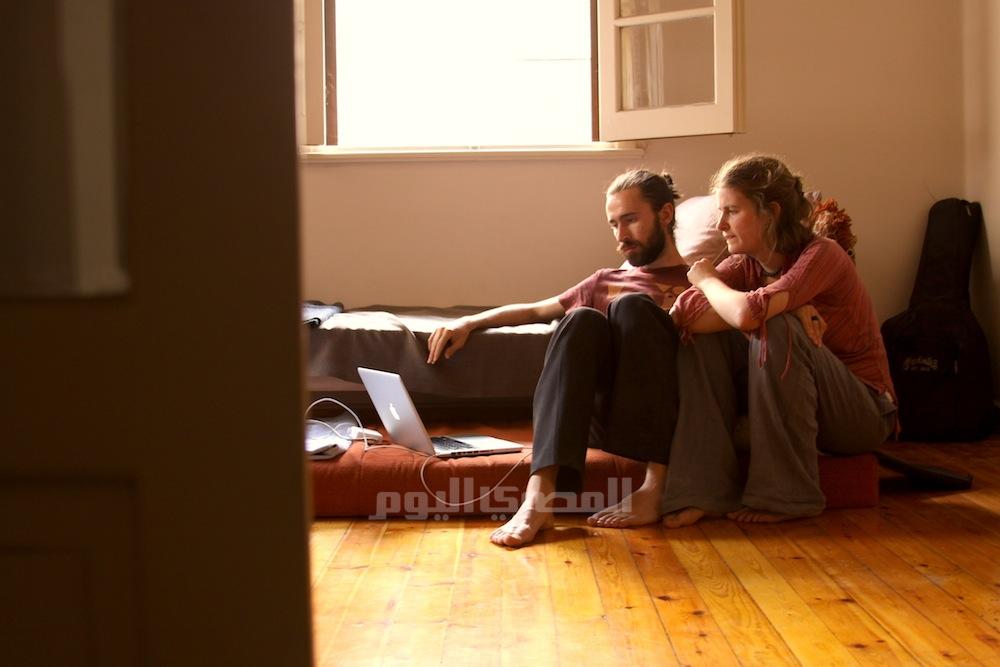 In light of recent events, the government may have jumped the gun with its predictions of a return to pre-revolution levels of tourists to Egypt this year. Tourism Minister Mounir Fakhry Abdel Nour made the optimistic announcement last Monday at a conference in Dubai, the Associated Press reported, just two days before protesters were attacked outside the Defense Ministry, leaving 11 dead.
But Abdel Nour may not have to look further than his living room to realize the unfavorable effects of the tense political situation on the industry. A glimpse into the world of couch surfing could provide a viable litmus test of the current state of tourism in the country and how it can be improved.
CouchSurfing, an online hospitality exchange, facilitates opportunities for home stays, and connects locals and travelers via message boards and a social network platform. Founded in 2003, the service today reaches over 4 million users across 252 countries and territories. The site's most current statistics list 10,965 registered users in Egypt alone.
Joel Orellano, an Argentinian who joined the site last year, recently "surfed" in Egypt and describes the appeal of couch surfing as twofold: 1) to meet locals, and 2) to save money.
"Traveling alone is exciting, but it can get boring. Couch surfing is an easy way to make friends. Plus, it's free," the 26-year-old information technology supporter says as he nears the end of a five-week vacation through Europe and Egypt.
Orellano says couch surfing provides a sense of an extended community and a home away from home. For instance, he recounts an episode when a lone traveler in London celebrated her birthday with 15 strangers, including Orellano, after she posted the public dinner invitation on the site.
Couch surfing as a tool for community building is a fact nowhere more evident than in the Egyptian context, where hospitality is a palpable custom. But it has its hiccups.
Every week, the Egypt CouchSurfing group hosts regular meetings and activities in Cairo such as bowling tournaments, flash mob happenings and old-fashioned hangouts. Meetings are popular and intended to promote the site and connect likeminded travelers and travel enthusiasts.
Monday evenings at a Borsa cafe in downtown Cairo are dubbed as "international meet-ups" for couch surfers and their friends and have garnered large turnouts.
But an active Egyptian couch surfer since 2009, 26-year-old Shaimaa Ibrahim, noticed a decline in attendance by foreigners at the weekly meetings since the onset of the revolution last year.
"Even though there were less and less tourists, we still met every week, and so a community of friends formed," Ibrahim said at an international meet-up, where the attendees were mostly Egyptian, mostly male — a fact that sheds light on a false, but seemingly prevalent perception of couch surfing in Egypt.
"They think it's a prostitution hosting," complains Ibrahim. "A lot of men think that because Egyptian women on CouchSurfing are willing to host foreigners, we're more open-minded. So some men take advantage of it."
Aly Vernon (female), 26, from the UK, had initially planned to stay with a female couch surfer in Cairo during her trip. But when the prospective host realized that Vernon was traveling with her boyfriend Nick Rasle, 26, the host politely declined and the couple settled on a male couch surfer's couch. She went on to warn the British couple about negative experiences she had with Egyptian males and why she no longer attends meetings.
Stories of harassing potential guests, inappropriate messaging and soliciting, and abusing of CouchSurfing as a dating site are allegedly common in Egypt.
"It's sad but true. Most of the messages I get are from new members who sign on, scan the female profiles in Cairo and request to be my guests. They wanted me to host them here in Cairo when they live in Cairo!" Ibrahim says.
The site features measures that in theory should dissuade abuse of its function. CouchSurfing is based on a trust that is supposedly maintained and checked by systematic feedback and public references (positive, neutral, or negative) written by users.
Members of the couch surfing community in Egypt have taken a step further to ensure safer experiences. According to Ibrahim, complaints by female or foreign guests are filed immediately at CouchSurfing headquarters, and the user is booted, ostracized or bombarded with complaints from other users.
Despite a few wayward cases, couch surfing in Egypt has held its ground promoting tourism in the face of an overwhelmingly narrow and negative international media coverage.
Vernon expressed how the events of the revolution did not deter her from coming to Egypt and how as a tourist she feels safe, while her concerns were placed elsewhere: "CouchSurfing has helped given me an idea of what's going on politically and what has been going on during the revolution. What I don't understand is why Egypt doesn't have a backpacking scene. I guess it likes to cater itself as a high-end destination. But Egypt is relatively affordable and has a lot of cultural things to see that backpackers would also like. India's got a backpacker scene, Egypt doesn't."
Abdel Nour, listen up, or put up your couch!