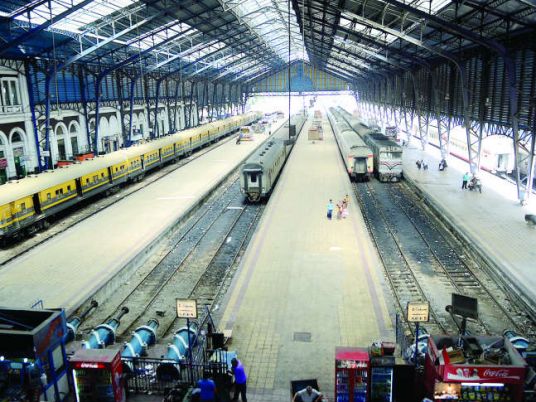 Egypt's Minister of Transport Kamel al-Waziri met with Minister of Investment and International Cooperation Sahr Nasr on Sunday to discussing funding railway, metro, road and maritime projects.
Waziri said that the ministry has set a comprehensive plan to modernizing the country's railways, which he asserted would be complete by June 2020.
The investment ministry has been negotiating with development partners to inject US$2 billion for the railway projects in Egypt, Nasr said.
She explained that the ministry had injected $4.5 billion in the railway projects' portfolio and obtained $153 million grants from the international financial institutions for the railway projects.
Waziri and Nasr also discussed purchase contracts of new tractors and the funding of the metro's fourth line.
In March, the Ministry of Transportation announced that it was moving to make joint investments with the Egyptian and foreign private sector regarding projects on railways, metro, and land ports.
The successful implementation of the country's largest project to improve railway efficiency and infrastructure came at a cost of LE 12.5 billion. The results of the project will be presented next year, along with the purchase of 1,300 coaches at a cost of LE21 billion alongside 100 locomotives.
The ministry has already completed the largest and most difficult part of investment, which is investing in infrastructure such as with a new project to electrify train signals in accordance with international standards, allowing trains to go up t 140 kilometers per hour.
The ministry also increased the number of trips, follow-ups, secured the process and renewed tracks.
Edited translation  from Al-Masry Al-Youm