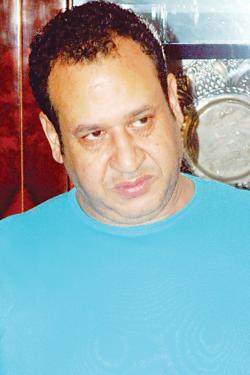 The Alexandria Criminal Court on Wednesday adjourned the thuggery trial of Sabry Nakhnoukh Helmy and his associate Mohamed Abdel Samad, to 3 November to give defense lawyers time to investigate whether the arrest procedures were correct.
Nakhnoukh's 20 lawyer defense team asked to investigate his villa in King Maryout, Alexandria. He was arrested in his villa in King Maryout in August.
Nakhnoukh's supporters cheered him upon his arrival to the court Wednesday amid tight security.
After the session, Nakhnoukh refused to give any statements to the media, and asked to be taken back to detention.
The defendants are charged with thuggery, possession of drugs and unlicensed weapons, facilitating prostitution, and impersonating a judicial official.
Police seized from Nakhnoukh's villa an automatic weapon, a 9 mm caliber Glock pistol, and a Smith and Wesson 9 mm pistol, as well as 847 rounds of ammunition, four knives and four stun guns, and an Alexandria Judges Club identity card bearing Nakhnoukh's image.
Edited translation from Al-Masry Al-Youm