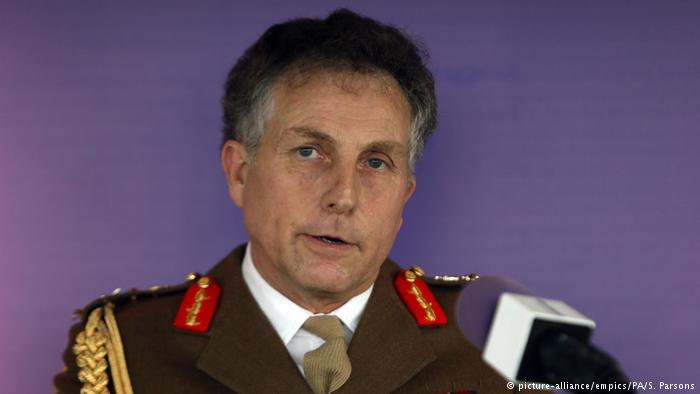 Russia is building up "aggressive" military forces and the British army would struggle to match Moscow's capabilities, according to UK army chief Nick Carter. The general is expected to call for more military spending.
The British army is facing threats on "Europe's doorstep" and the UK needs to step up defense in order to "keep up with our adversaries," UK Chief of the General Staff Nick Carter is expected to say in a speech Monday at the Royal United Services Institute (RUSI) in London.
The RUSI published excerpts from Carter's speech ahead of the event.
"The threats we face are not thousands of miles away but are now on Europe's doorstep — we have seen how cyber warfare can be both waged on the battlefield and to disrupt normal people's lives – we in the UK are not immune from that," the excerpts read.
According to Carter, Russia is building increasingly aggressive and expeditionary forces which the British military would struggle to match. He is also to warn of Russia's long-range missile technologywhich the Russian military demonstrated in Syria.
Military calls for more money
"The time to address these threats is now — we cannot afford to sit back," Carter is expected to say, joining a growing chorus of defense officials calling for more military spending.
"Our ability to pre-empt or respond to threats will be eroded if we don't keep up with our adversaries," he says in the pre-published remarks.
Carter's rare speech comes as Britain's new Defense Minister Gavin Williamson is also reportedly calling for more military spending, and is expected to put more pressure on Finance Minister Philip Hammond to accommodate those demands.
Several high-ranking officers, including retired defense chiefs, also called for a military build-up amid reports of UK army financial struggles. In a RUSI speech last month, Air Chief Marshal Sir Stuart Peach warned that Russian submarines could cut internet cables on the ocean floor and do "catastrophic" damage to the Western economy.