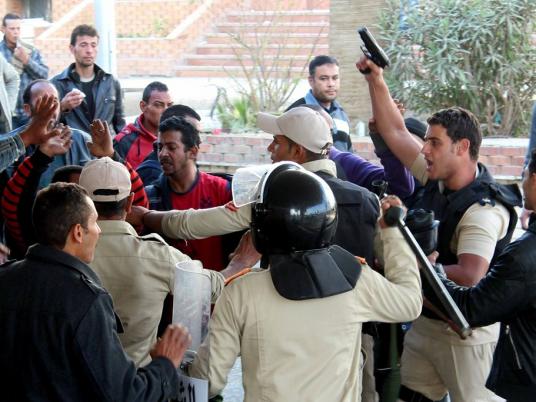 Hundreds of demonstrators took to the streets across the country on Friday, protesting against the rule of the Muslim Brotherhood and its political arm, the Freedom and Justice Party, and decrying police brutality.
In Beheira Governorate, dozens of protesters blocked the railways late Friday afternoon, chanting angrily. They pelted residents who attempted to open the way with rocks. Security forces were completely absent from the scene.
Hundreds of Beni Suef residents blocked the railways in the governorate's capital city on Friday afternoon, in protest against Prime Minister Hesham Qandil's comments on women from the area.
Qandil made the controversial statements during a televised meeting with state TV leaders and media professionals on Monday 4 February. He criticized traditional ways of practicing personal hygiene in Beni Suef, claiming that ignorant women nurse their infants without cleaning themselves first, causing diarrhea in the infants.
He also claimed that women Beni Suef head to agricultural fields and get raped, which sparked an outcry from political forces and lawyers, who declared the statements were humiliating to all women from the governorate.
Eyewitness told Al-Masry Al-Youm that hundreds took to the streets in mass protest, stopping all trains running to and from Cairo. They chanted, "Leave … leave," and demanded Qandil put on trial for his statements. They also chanted, "Down with the guide's rule," referring to the leader of the Muslim Brotherhood.
In Suez, dozens of activists protested in Arbaaen Square in the capital's downtown district, demanding the completion of the goals of the revolution.
"We call for the release of detained revolutionaries," Ali Amin, a leading Wafd Party figure in the governorate, told state-run MENA news agency. He claimed that in Suez, there are ongoing attempts to terrorize the opposition into silence.
In Alexandria, hundreds participated in a march from Al-Qaed Ibrahim Mosque after Friday prayers, rejecting the Muslim Brotherhood and denouncing the Interior Ministry's policies on suppressing demonstrations since last month's protests marking the second anniversary of the 25 January revolution.
Protesters also marched in the funeral of Hassan Shaaban, an activist who reportedly died early Thursday morning in Borg Al-Arab Prison after allegedly being denied medicine and health care, despite known health conditions. The 35 year-old was arrested after participating in demonstrations near the Alexandria Security Directorate on Friday 8 February.
In Monufiya Governorate, dozens of members of the April 6 Youth Movement and Kefaya protested in the capital city Shibin al-Kom to demand the completion of the goals of the revolution. Security was tightened in front of the governorate building, the prison and the courts to secure them against any acts of sabotage.
In Kafr al-Sheikh Governorate, dozens of members of the Popular Current, the Dostour Party and the Karama Party also took to the streets to demand that the goals of the revolution be fulfilled. The demonstrators also denounced the Muslim Brotherhood's rule.
Edited translation from MENA