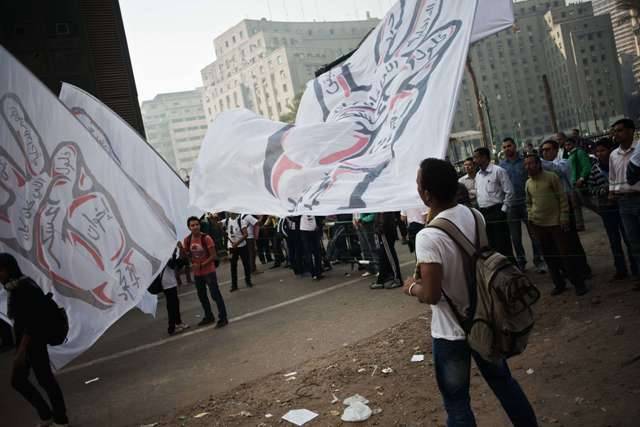 Tahrir Square has once again become the venue for fresh clashes in the heart of Cairo, on the day hundreds rallied to commemorate the deaths of around 50 killed in one of the worst bouts of violence in the 2011 revolution.
Police fired tear gas and birdshot at protesters close to Qasr El-Nil Bridge late Tuesday, the latest in a string of clashes which left dozens injured according to Health Ministry figures. The square was then cleared amid a creeping smokescreen of heavy tear gas as police vans advanced from the bridge.
Army APCs then secured the entrances to Tahrir, an echo of the routine security cordons downtown Cairo has witnessed since the July 3 overthrow of Islamist President Mohamed Morsy.
One eyewitness said protesters provoked security forces with fireworks. An Interior Ministry spokesperson said protesters had attempted to storm the Arab League headquarters building close to the River Nile.
Police responded with tear gas and bird shot. Emergency services officials reported 30 injured throughout the day late Tuesday.
A field hospital in the square also reportedly received one protester with an eye injury caused by birdshot, an unwelcome reminder of the kind of injuries witnessed at the original Mohamed Mahmoud clashes in 2011.
Supporters of army chief Abdel Fattah al-Sisi, revolutionary protesters and alleged Muslim Brotherhood supporters meanwhile all laid claim to Tahrir on Tuesday.
On Mohamed Mahmoud, a street which runs between the Interior Ministry and Tahrir Square in central Cairo, protesters came to remember the martyrs. Mohamed Mahmoud saw brutal fighting between protesters and security forces on November 19, 2011. The clashes went on for four days and left around 50 dead.
On Tuesday a member of a fact-finding commission tasked with investigating the violence told Egypt Independent they found the Interior Ministry used deliberate and excessive force to hurt and kill protesters in November 2011.
"[They fired] especially at faces from close range, causing deliberate killings from choking or piercing rubber bullets in sensitive parts," said human rights lawyer, Mohsen Bahnasy.
Ahmed Harara, an activist blinded by police birdshot during the original Mohamed Mahmoud clashes, joined the marches during the afternoon. Earlier he told state-run Ahram Online: "I am not alone, and I am not defeated and I am not giving up before I see a state, with all its institutions with no single exception, bowing to the people."
However the days leading up to Tuesday saw numerous attempts to capitalize on the second anniversary of Mohamed Mahmoud.
The night before, when revolutionary youth protesters stormed Tahrir and defaced a martyrs' memorial inaugurated by Prime Minister Hazem al-Beblawy and other officials just 12 hours earlier, a banner was hung above the entrance to the square: "Feloul [regime remnants], army and Brotherhood not allowed in."
Clashes also erupted on Tuesday when a pro-Sisi rally in Tahrir was moved on by youth protesters.
"This is a glorious day of celebration for the Egyptian people," one Sisi supporter said, minutes before fighting broke out. "Today is for all Egyptians." The anniversary also coincided with army chief al-Sisi's birthday.
Walid, a local businessman, said: "The people in Mohamed Mahmoud, I don't know what they want. They are against the army, the Brotherhood, everything. They want idealism and there is nothing in that."
Both sides exchanged volleys of rocks before police briefly intervened, dispersing crowds with tear gas.
Chants of "Down with the traitors" and "The Interior Ministry are thugs" were heard. Banners referenced some of the original demands of Egypt's 2011 revolution. "Bread, freedom and the cleansing of the Interior Ministry," one read.
By 5 pm more intense fighting broke out close to Abdel Moneim Riad, on the very edges of the square. A surge of revolutionary marchers – including the Revolutionary Socialists, April 6 movements and The Road of the Revolution – meanwhile bolstered the several hundred already in the square.
Calm was interspersed by bouts of fighting. Protesters raised a symbolic coffin dedicated to the "memory" of the martrys on to the top of a now tattered government-sponsored memorial.
An Anti-Coup Alliance youth activist, speaking on condition of anonymity, also claimed Muslim Brotherhood supporters had joined commemorations as an act of penance. Small, scattered groups of young men flashed Rabaa signs, apparently unnoticed, next to him.
"During Mohamed Mahmoud in 2011, we made mistakes," he said, referring to Brotherhood leaders' withdrawing criticism for the security forces over Mohamed Mahmoud because of impending parliamentary elections that year.
"We have come here to make up for those past mistakes."