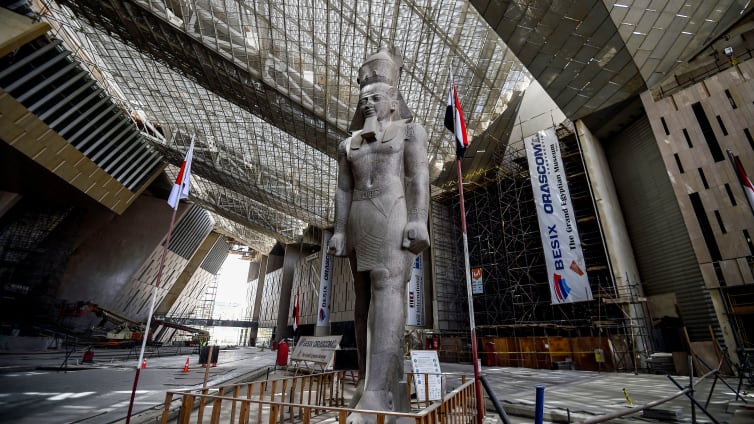 Egypt's Minister of International Cooperation and former Minister of Tourism Rania al-Mashat shared on her social media accounts the first promotional video for Egypt's highly-anticipated Grand Egyptian Museum, which is set to open its doors to the public this year.
The promotional video was broadcast for the first time on the leading Discovery Channel network, which gets 7 billion views each month, on Saturday February 1, according to Mashat.
Mashat says that the promotional video is part of 'Egypt Tourism: The Holistic Marketing Ecosystem,' an international tourism marketing campaign launched in September 2019.
The campaign, according to Mashat, included broadcasts highlighting Egypt's rich cultural heritage and its dozens of tourist destinations and resorts, and was adapted specifically for travelers across the US, Europe, Japan, China, and India.
Mashat underscored the vital role played by the Ministry of International Cooperation in securing funding from the Japan International Cooperation Agency (JICA) since 2008.
She also expressed her excitement for the much-awaited opening of the GEM, thanking the current Egyptian Minister of Tourism and Antiquities Kahled al-Anani.
https://www.facebook.com/rania.almashat/videos/10217985643891699/?t=11
The video shows a number of glimpses into the GEM and its construction, as well as officials and ministries hard at work on the massive project. The restored artifacts set to be displayed for the first time in the new mega museum are also shown from diverse angles.
Constructed on approximately 500,000 square meters, the GEM is located nearby the Giza Pyramids and will house the world's largest antiquities collection belonging to a single culture's heritage.
The GEM's General Manager Tarek Tawfik said in a previous interview with The Art Newspaper that the museum will accommodate two 7,000 square meter galleries dedicated to the the legendary King Tut's lifestyle – how he lived, dressed and ate – in addition to the complete collection of his belongings.
Construction of the museum first began in 2006 but slowed down due to the outbreak of the January 25th, 2011 revolution and years of instability that followed.
During a phone interview with TV presenter Amr Adib on his program Al-Hekaya (The Story) on the MBC Misr Channel, Anani said that the entrance ticket to the new museum will be LE400 for foreign visitors, LE200 for foreign students, LE60 for Egyptian visitors and LE30 for Egyptian students.
The museum will also feature several entertainment hubs, restaurants, and theaters.