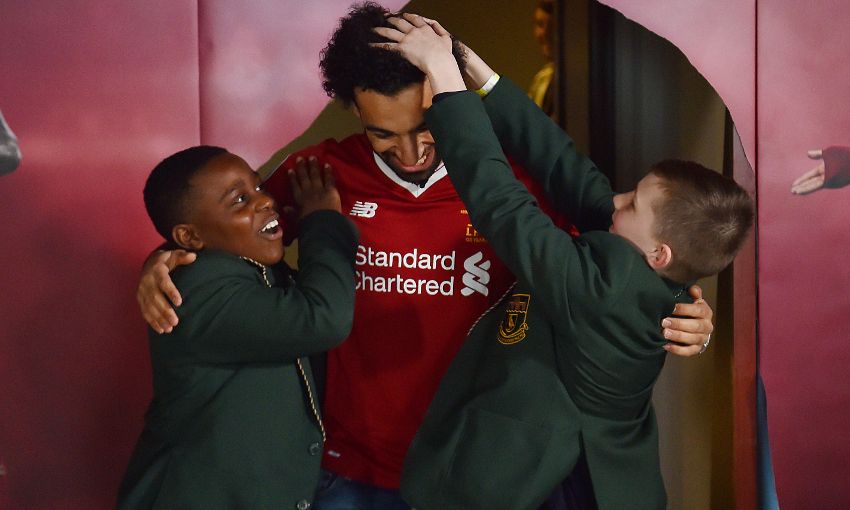 Liverpool's YouTube channel posted a video of a prank competition among schoolchildren to comment on matches, specifically on the goals of club stars, when Egyptian Mohamed Salah appeared as a surprise for them.
The winner of the competition would be able to meet the club's star, Egyptian Mohamed Salah, at a later date but the club decided to surprise the children with Salah jumping out of a makeshift wall of paper while they were commenting on a game.
The video showed the great love of the children to Mo Salah, as they did not believe their eyes when he came out of the wall to ask him, "Are you real?" Others touched Salah's hair and cheeks.
One of the children asked him, "What shampoo do you use?" Salah laughed. "Did you like my hair?" Salah said. A child was shocked when he saw him and lost words. Two children bowed down to him and one said afterwards, "I was about to cry when I saw him."
The video showed the joy that struck one of the girls when Salah appeared suddenly to say, "Oh my God, I love you." One youngster perhaps speaks for everyone when he declares: "I love Mo Salah. Why? He's just boss, isn't he?"
"It's a good surprise. I didn't expect they would be like that, I'm very happy to be here and share this day with the kids," Salah said.
The event was organized as part of the Red Neighbours programme and brought youngsters to the stadium on the following premise: take part in a commentary competition for the opportunity to win the chance to meet Mohamed Salah at a later date.
The competition joined 20 pupils from five local schools ranging from grade five to nine.
Edited translation from Al-Masry Al-Youm