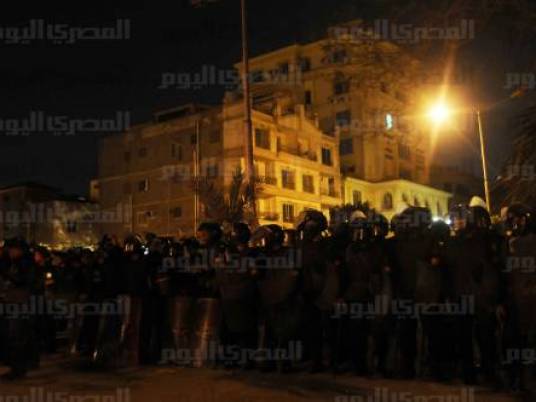 Fifteen suspects have been arrested on charges related to clashes between protesters and police in front of the Muslim Brotherhood's headquarters in Moqattam, which left dozens wounded.
The South Cairo Prosecution ordered the arrests on Monday. The suspects are to be held in custody for four days pending investigations into charges of thuggery and an illegal show of force.
The clashes broke out on Saturday night after opposition activists gathered at the Brotherhood headquarters to protest against President Mohamed Morsy's administration. The Journalists Syndicate accused Brotherhood members of assaulting reporters during the clashes, and demanded that Supreme Guide Mohamed Badie issue an apology for the violence.
The Brotherhood said it would conduct internal investigations into the incident to determine if any group members were implicated in any illegal, spokesperson Gihad al-Haddad tweeted on Monday.
"We condemn all forms of violence, and we will not give violence political cover," he wrote, adding that provocation is no justification for acts of aggression, and that no one is above the law.
"Violence must be investigated by the competent authorities seriously and with full transparency," Haddad continued.
He concluded by asserting that the Brotherhood continues to exert itself to save the country from its current turmoil, which can only happen with dialogue and sincere intentions for collaboration.
Edited translation from Al-Masry Al-Youm