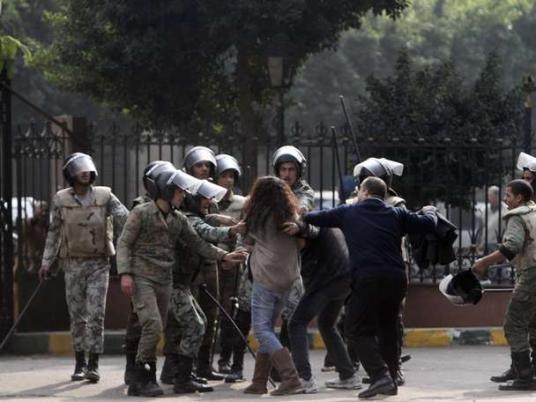 Two judges investigating the violent clashes outside the cabinet last December ordered activist Ahmed Doama detained Thursday for 15 days pending investigation, judicial sources told Al-Masry Al-Youm Friday.
In response, activists on Facebook and Twitter called for a Friday protest outside the public prosecutor's office in downtown Cairo.
The judges handling the investigation into the clashes had detained 160 people total pending investigations. On Thursday, the Cairo Criminal Court released 60 suspects while continuing to investigate charges against them.
The Dostor news website reported that security forces arrested Doama late Thursday in the Dokki neighborhood in Giza. Doama was interrogated in the Fifth Settlement in New Cairo, said activist Asmaa Mahfouz on Twitter.
State-run Al-Ahram said on its website that the public prosecutor had charged Doama with inciting violence, assaulting military officers and attacking public institutions.
On 16 December, military forces violently dispersed a sit-in outside the cabinet, where activists were protesting against the ruling Supreme Council of the Armed Forces' (SCAF) appointment of Kamal al-Ganzouri as prime minister; Ganzouri had served in the same position under former President Hosni Mubarak.
Protesters were also demanding that the SCAF immediately transfer power to a civilian body. At least 17 people were killed by the military during the clashes, some by live ammunition.
The judges are also in the process of questioning prominent figures, including presidential hopeful Ayman Nour, political activist Mamdouh Hamza and journalist Nawara Nigm, for their potential involvement in instigating clashes with the armed forces.