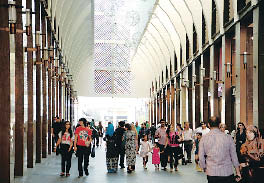 When your best friend is getting married and you're looking for an unforgettable way to celebrate before she begins the next chapter in her life, where do you go? Out of your striped flannel pajamas, into a fabulous little dress and onto a plane heading to Beirut, Lebanon.
The 50-minute plane ride from Cairo to Beirut is shorter than the daily commute from my house in the suburbs to my office in downtown Cairo. This, among other factors, makes Beirut the perfect destination for a bachelorette weekend getaway.
If you are a proud holder of an Egyptian passport, you don't have to worry about the entry visa process or plan your trip months in advance. You can get an entry visa to Lebanon upon arrival; all you need is a copy of your hotel reservation and US$2,000 in cash, which you may or may not spend during your stay.
We arrived at Le Royal Beirut, a five star resort encrusted on a mountain overlooking the Mediterranean. We proceeded to check into our Ournjouan suite apartment, a three-bedroom suite that provided plenty of room for the six of us, and a spacious living room in which we gathered to plan our two days and three nights in the city.
Located in Dbayeh, the hotel was a bit far away from downtown Beirut. This can be a good thing if you're looking to get away from city life, but not so great if you're planning on taking the city by storm for prenuptial celebrations. Beirut traffic, we would later find out, is not unlike Cairo traffic: overwhelming and overcrowded. Beirut taxis, we also found out, are quite pricey.
To avoid the stress of congestion on our first night, we opted for a relaxing stay in the Dbayeh neighborhood and enjoyed a nice dinner at one of its best restaurants, Babel. Built like a luxurious, Babylonian castle, the restaurant provided a memorable dining experience. Lebanese cuisine never fails to impress, but Babel goes the extra mile by excelling in the presentation of its dishes and offering immaculate service from its charming waiters. It is not unheard of to giggle, blush and feel beautiful when a Lebanese waiter is taking your order; the Lebanese are known for their effortless flirtatiousness. After a satisfying meal, the night was made complete by smoking an arguileh while enjoying the live traditional music playing in the background. Beirut was off to a good start.
When six girls get together, shopping is inevitable. A visit to the Beirut Souks at Solidere the next day was kind to the soul but not to the pockets. It's easy to tell why Lebanese women are notoriously stylish. The high-end shopping area, Beirut's largest, accommodates over 200 shops, including some of the world's most luxurious brands. Trying on the red-soled designs of Christian Louboutin then walking over to Chanel, we found ourselves rubbing shoulders with the Middle East's most elegant ladies, even stumbling upon famous pop star Nancy Ajram checking out Stella McCartney garments.
With its stunningly renovated architecture and design, it is hard to imagine that this very same area sustained irreparable damage during the Lebanese civil war. Knowing that there's so much history and so many untold stories behind the modern façade adds depth to a pleasant stroll through multiple restaurants and coffee shops. Determined to move on from its battle-torn days, Beirut's Central downtown district feels like a world away from the Middle East and its newspaper headlines.
Further away from the Arab world's unrest, the bachelorette festivities were about to begin. It was time to hit Gemayzeh street, the "Soho" of Beirut. At 8 pm, the trendy district was already buzzing. Craving some South American cuisine, we started off the night with a hearty meal at Joe Penas, a cute restaurant and bar with good music. A lively crowd greeted us warmly upon seeing the bride-to-be in her little tiara and mini wedding veil, and her five faithful bridesmaids with big fuchsia bows in their hair. The friendly waiters were quick to clear a bigger table for us in the cozy venue.
After finishing our quesadillas and nachos, we were ready to proceed with bar hopping in Gemayzeh, an experience that is not to be missed. With loud, upbeat bars, small indie pubs, classic restaurants and modern lounges, Gemayzeh has something for everyone. Walking around in our bachelorette attire, we were welcomed by everyone. People offered their congratulations and sweet words, and we received extra special attention wherever we went. "He's a lucky man," one passerby winked at the bride-to-be.
Gemayzeh is a long street, and we were still strolling by when we bumped into another bachelorette group, with whom we shared a quick kinship. "We just got here from Dubai," one of the bridesmaids told us. It was evident Beirut is the destination for giddy bachelorettes. We exchanged good wishes and carried on in opposite directions.
Eventually, we found a place with just the right ambience. It was Karaoke night at Black Ice — a modern, dark bar with purple sci-fi lighting. We walked in and the fun crowd broke into cheers for the bride, constantly raising their glasses for "al-Aroussa." People came up to dance with the bride-to-be and dedicate Egyptian songs to her, and the bar-owner himself joined the party. Just as the night was wrapping up and we were about to head back to our hotel, the bar-owner asked us to stay for "just 10 more minutes." He had ordered knafeh for us — the sweetest Lebanese dessert I have ever had. Beirut was being much too kind to us.
The next night was the grand-bachelorette finale. Once again, we got into our bridesmaids' gear, and headed to the Library Beirut, an elegant restaurant with live music built like a huge library, as the name suggests. Perhaps it was our grand expectations that left us a little disappointed with the place. The food wasn't extraordinary and the crowd was less fun than we had come to expect in Lebanon. The live music, a mixture of English, Oriental, French and Italian songs, was pleasant, but not nearly as upbeat as we had hoped for on our last night in the exuberant city.
We vowed not to go home without one last party, so we headed to Al-Mandaloun, where we got to experience Beirut nightlife one more time. A renovated old theater, the club is designed to look like a train station, with shiny steel and bright lights. The music was loud and brilliant, a mixture of Western hits and Arabic beats, as well as a line-up of different performers and musicians providing live entertainment under a huge circular LED Screen. As we danced our last night away, the sun began to rise, putting an end to an unforgettable trip — and our bride's single days.
This piece appears in Egypt Independent's weekly print edition.