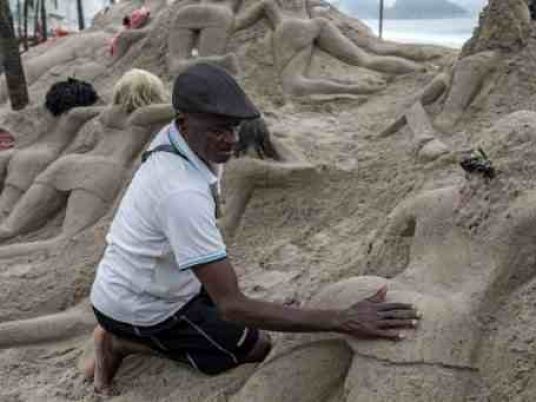 Sand sculptures of curvaceous, full-bottomed women on Copacabana beach may be one of Rio de Janeiro's wackier tourist attractions, but now they're under fire from a resident's association claiming the risque creations promote prostitution.
Jassim Al-Alawadhi was one of several tourists stopping to take a selfie in front of a larger-than-life sculpture of a woman lying on her front, with her sand backside, clad in a tiny string bikini, sticking prominently in the air.
"It's just sand. I don't think it is an excuse for prostitution or vice. It's just a sculpture and it's what the poor man here does to make a little money," said Al-Alawadhi, a 26-year-old financial analyst visiting from Kuwait.
The creator, 63-year-old Ubiratan dos Santos, said he'd been working on sand sculptures at the famous beach for 23 years.
"I've made women of all types — one day in a bikini, another in a skirt. To want to ban me shows a lack of respect for my work," he said.
As he spoke, he delicately spread sea water over the controversial backside. The damp treatment is needed "because otherwise if there's wind, it will be all finished."
But disapproving residents may do what the wind cannot.
Horacio Magalhaes, 48, a lawyer and head of the Friends of Copacabana association, said that given the area's reputation for prostitution, the sculptures are "at the least of questionable taste."
"There is this sexual message for tourists coming to Rio not to see our beautiful landscapes and beaches, or to learn about our culture or our historic patrimony, but rather to learn about the 'bum area' of our women," he said.
"It's definitely not the kind of tourism that the public authorities or the residents want," he added.
"We want Copacabana, the cradle of Bossa Nova music, to recover its charm, to become a residential and family neighborhood again — and these sculptures do not help that."
Lewd or art?
A representative of the mayor's office came by this week to ask for a stop to the pieces, dos Santos said, saying that local people considered it was encouraging the neighborhood's long-standing prostitution business.
Deputy Mayor Bruno Ramos confirmed that he'd like to see an end to the sculptures.
"It's not good for the city's image," he told AFP.
The sculptures already had their detractors back in 2013 when Pope Francis came to Brazil and Copacabana filled with three million Catholic faithful. The bare bottoms were covered out of respect.
But for dos Santos, the polemic is "a circus. They'd be better off dealing with the violence in the city." He vowed to stand guard at night.
Another tourist said he couldn't understand the controversy, given the popularity in Brazil of revealing string bikinis.
"The women you see on the beach, aren't they practically naked? I think this is art, it's very beautiful and I defend this form of art," said Luciane Silvestre, 48, who took pictures and left a donation with the sculptor.
For Magalhaes, that argument doesn't work.
"People on the beach can dress as they like and the public authorities cannot say anything, but these sculptures are in a public space and the mayor's office needs to bring order," he said.