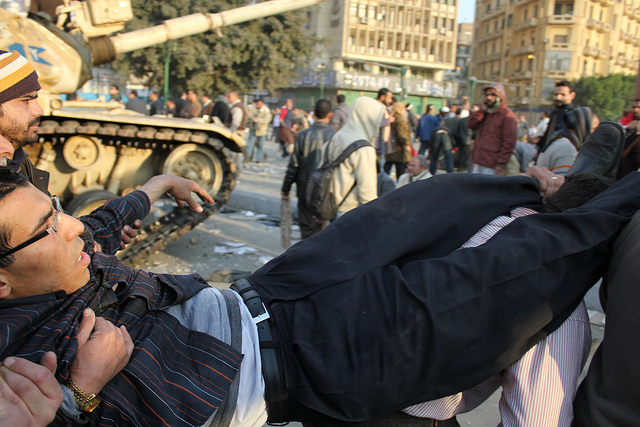 Presidential candidate Ahmed Shafiq distorted a conversation that took place during the 25 January uprising to make it look as if Islamists were responsible for killing protesters, a Muslim Brotherhood leader wrote on his Facebook page Thursday, in what he described as an attempt to keep his organization on the defensive ahead of the presidential runoff.
A senior military official knew at the time who was responsible for attacks on peaceful demonstrators in Tahrir Square on 2 and 3 February 2011, which has come to be known as the "Battle of the Camel," said Mohamed al-Beltagy, secretary general of the Freedom and Justice Party's Cairo bureau. His Facebook post came in response to Shafiq's charge implying that Islamists ordered snipers to shoot demonstrators from rooftops.
"A military official told me during the [18-day uprising] that he had asked Brotherhood member Mohamed al-Beltagy and pro-Brotherhood preacher Safwat Hegazy to order the 'bearded' snipers killing protesters from the roofs of buildings to get down, to which Hegazy agreed," Shafiq said during an interview with television host Khairy Ramadan on CBC satellite channel Monday.
The Brotherhood leader said Shafiq was referring to a previous conversation between Beltagy and Major General Hassan al-Roweiny, a member of the ruling Supreme Council of the Armed Forces.
"Mr. Shafiq, and whoever is behind him, took the conversation out of context to keep us in a battle with them, and in a position [where we are forced] to defend ourselves, instead of allowing us to continue emphasizing the need to isolate Shafiq politically," he added.
Beltagy spoke of the day of the battle when men on camel and horseback stormed the square.
"When the sinful attack took place in Tahrir Square, young people advanced to defend the square and hindered the attack. Then they moved to the front, filling Abdel Moneim Riyad Square — where the attackers were based — and ascended to buildings' roofs, from which snipers had escaped, so as not to leave any chance for another treacherous attack," he recounted.
Beltagy said Roweiny had asked to see him alone in the Egyptian Museum, north of the square. "Roweiny asked me to get the youth to leave Abdel Moneim Riyad Square [and go] back to Tahrir, and to come down from the rooftops," he said.
Beltagy said he then told Roweiny: "How can I convince them to do this? They were killed and attacked yesterday while you [the army] did nothing to defend them. Besides, they are now saving their brothers from rooftops, so there won't be another attack."
According to Beltagy, the major general responded: "What happened yesterday will not happen again, we will not allow a second assault on the protesters."
Beltagy again refused, according to his account, claiming he asserted protesters' right to defend themselves.
The Brotherhood official continued narrating his conversation with Roweiny, saying the major general had assured him "We told senior [government] officials today: 'Keep [your men] away from the square.'"
Beltagy concluded his Facebook post by writing, "Once again I say: Does it make sense that young Egyptians accept a lying president? I say, 'No … and not even a fabricator.'"