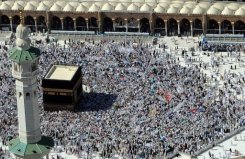 The death toll for Egyptian Hajj pilgrims in Saudi Arabia this year has risen to 43 cases, according to Assistant Health Minister and senior doctor for the Hajj mission Ali Hegazy on Saturday.
The 43 people all died of natural causes, not due to stampede or any infectious diseases, added Hegazy.
Hegazy listed the common illnesses among pilgrims visiting the Hajj clinic: stress, general fatigue, sores and cracks in their feet, colds, chronic diseases such as diabetes, and high or low blood pressure.
Clinics of the mission had received 67,169 cases as of Saturday morning. They were checked, given medication, then discharged. Another 360 cases have been admitted to Saudi hospitals.
The spokesman for the Health Ministry, Khaled Megahid, said no cases of infections with contagious diseases had been discovered among Egyptian pilgrims as of Saturday morning.