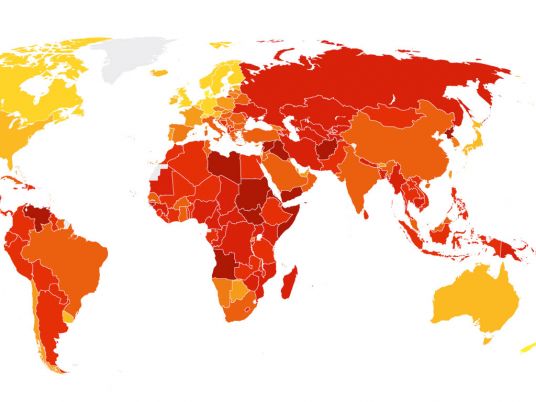 Egypt ranked 108 on Transparency International's Corruption Perceptions Index for 2016, according to a recently published report.
"More countries declined than improved in this year's results, showing the urgent need for committed action to thwart corruption," the organization said.
The countries are assessed on the basis of press freedom, judicial independence, transparency of public expenditure, and the integrity of public officials and institutions.
Over two-thirds of the 176 countries and territories in this year's index fall below the scale's midpoint, on which 0 signifies "highly corrupt" and 100 "very clean." The global average score is 43, signifying prevalent corruption in a country's public sector, the report stated.
Denmark and New Zealand both ranked first, while Somalia was last and seen as most corrupt at 176.
The UK and US were at 10 and 18, respectively
Top-scoring countries (yellow in the map below) are far outnumbered by orange and red countries where citizens face the tangible impact of corruption on a daily basis, the report shows.
The report highlighted the link between corruption and inequality in this year's results, which feed off each other to produce a vicious circle among corruption, unequal distribution of power in society, and unequal distribution of wealth.
"In too many countries, people are deprived of their most basic needs and go to bed hungry every night because of corruption, while the powerful and corrupt enjoy lavish lifestyles with impunity," José Ugaz, chair of Transparency International, said in the report.
According to the report, the relationship between corruption and inequality also feeds populism.
"When traditional politicians fail to tackle corruption, people grow cynical. Increasingly, people are turning to populist leaders who promise to break the cycle of corruption and privilege. Yet this is likely to exacerbate – rather than resolve – the tensions that fed the populist surge in the first place," the report reads.
Referring to the sacking of Egypt's top auditor Hisham Genenina after he publicly exposed how much corruption cost Egypt the past four years, the report states that Egypt's corruption is still high in the "absence of a real political will to fight it."
Transparency International is an international non-governmental organization which is based in Berlin, Germany, and was founded in 1993.