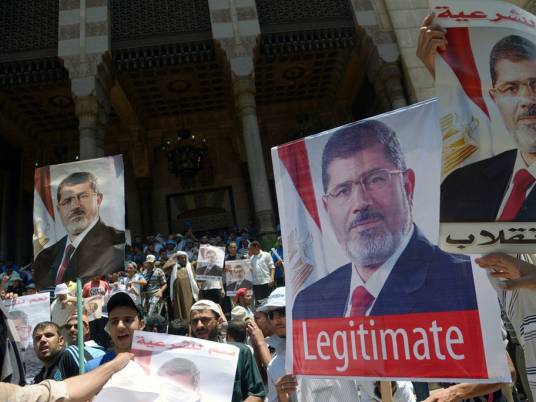 Nageh Ibrahim, former deputy head of the Shura Council of Jamaa al-Islamiya and Islamic scholar, said the Muslim Brotherhood committed several errors causing the group to lose power. The most important of these errors according to Ibrahim, was dealing with the people, with the mentality of the group and putting a priority to religious loyalty above consensus among all spectrums of society .
Ibrahim told Egypt Independent that the MB limited their agenda to politics and intended to reach for power instead of focusing on both the religious and political aspects of the Islamic project, bringing down thus the group and the project.
The MB dealt with the ideas of the state, the organization and the political party like the "communicating vessels" theory, as if they are one thing, Ibrahim said. The group did not separate state institutions and structures from the group structures, he added.
Toppled President Mohamed Morsy had to recall the genius of Imam Hasan ibn Ali who waived power when he ruled half the hemisphere and controlled the second half, Ibrahim added.
Ibrahim mentioned that Morsy was not independent but ruled through the guidance bureau of the Muslim Brotherhood.
Morsy could have been like Nelson Mandela and Abdel Rahman Sewar al-Dahab who gave up power.
Ibrahim said that the Muslim Brotherhood asked people to choose between legitimacy on one hand and bloodshed and destruction on the other. Blood was shed and the group preferred the Algerian scenario to that of Erdogan and Erbakan, leading to the death and injury of thousands, Ibrahim added.
Legitimacy did not bring anything as the death toll reached 3000 people, thousands were injured and about 1500 were jailed, he said.
Legitimacy hadn't returned as they thought after the death of people, Ibrahim pointed out.
The Muslim Brotherhood and Islamists in general will not accept defeat until the last of them is jailed, Ibrahim said.
They should have realized the political situation early to avoid such losses, Ibrahim added.
Morsy lost many chances as he could have formed a new cabinet instead of Hesham Qandil's cabinet, held early presidential elections or broken up Rabaa and Nahda sit-ins after Eid, Ibrahim said.
One of the errors the Islamic movement committed was teaching its followers to die as martyrs in Rabaa and Nahda sit-ins without a real objective, believing thus they would be granted paradise. They should have taught their followers the jurisprudence of life instead of the jurisprudence of death, he added.
Muslim scholars forbade death aimlessly, especially if death would not achieve the same benefit as that the Muslim would have achieved if he had lived.