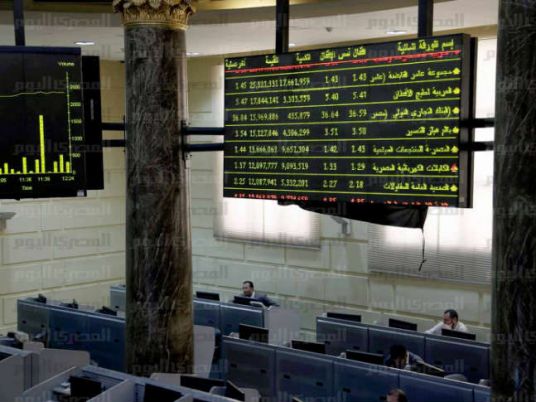 Gulf stock markets steadied and some rebounded on Monday after tumbling a day earlier in response to a plunge in oil prices.
Brent crude fell nearly $2 a barrel to a five-year low below $68 in early trade on Monday but then pared some losses and climbed towards $70. That appeared to soothe Gulf investors' nerves and inspire some late buying.
Saudi Arabia's index rose 1.1 percent as most market sectors rebounded, while petrochemicals were almost flat. The bourse closes at 1230 GMT, hours after its Gulf counterparts, and so reacts more to Western market moves.
Alinma Bank was the main support, surging 5.3 percent.
Loss-making telecom operator Zain Saudi fell 8.1 percent after tumbling by its daily 10 percent limit on Monday, touching an all-time intraday low of 7.25 riyals as its trading volume surged.
On Thursday, the company proposed cutting its capital to eliminate accumulated losses up to Sept. 30.
Zain Saudi also cut its capital in 2012 to 4.8 billion riyals ($1.28 billion) from 14 billion riyals. It then launched a rights issue to up its capital to 10.8 billion riyals.
Fears of another rights issue, which would force investors to commit more cash or have their holdings diluted, may have sparked this week's sell-off.
Qatar's benchmark rose 0.8 percent as banking and property stocks led gains.
Qatar National Bank added 1.2 percent, while developers Barwa Real Estate and Ezdan Holding rose 3.5 and 0.9 percent respectively.
But stocks exposed to the oil and gas sector remained under pressure. Qatar Gas Transport Co fell 1.7 percent and drilling rig provider Gulf International Services lost 1.0 percent.
UAE, Egypt
In Dubai, some stocks also rebounded, but this was not enough to stop the index dropping 2.2 percent because its biggest listed company, Emaar Properties, fell its daily 10 percent limit.
Sunday was the record date to qualify for Emaar's special dividend of 1.257 dirhams per share, which is linked to the initial public offering of subsidiary Emaar Malls Group in October.
Shares in Emaar Malls rose 2.7 percent, contractor Arabtec Holding gained 1.6 percent and developer Deyaar added 2.2 percent.
Abu Dhabi's index slipped 0.2 percent but blue chips National Bank of Abu Dhabi and Aldar Properties jumped 4.6 and 3.1 percent respectively.
Egypt's benchmark edged down 0.8 percent as Commercial International Bank and EFG Hermes fell 1.0 and 2.3 percent respectively.
Although Egypt's bourse has avoided the sharp drops experienced by markets in oil exporting countries, negative regional sentiment may have slightly soured the mood in Cairo too, said Allen Sandeep, Naeem Holding director of research.
Egypt's trading volume was lower than on days when the market gained last week, "which suggests we are still in a bullish trend", Sandeep added.