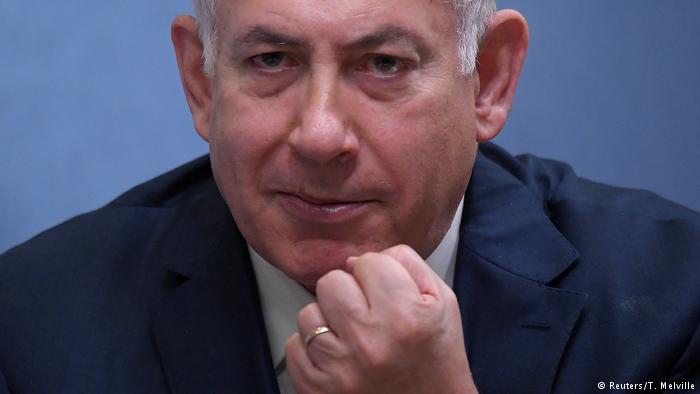 A serial survivor of scandals, Israeli Prime Minister Benjamin Netanyahu appears to be in trouble once more after police recommended a range of bribery and other charges against him in two separate investigations. Yet the law doesn't require him to step down until convicted, the process could drag on for months, and the determined, loquacious leader is digging in his heels.
For now, his coalition is lining up behind him, but public opinion could change that. If his Likud Party concludes he has become a liability, minnows could quickly turn into sharks and the party could replace him and retain power with the existing coalition.
Police say there is sufficient evidence to indict Netanyahu for bribery, fraud and breach of trust, accusations he rejects.
Attorney General Avihai Mandelblit, a Netanyahu ally, now must decide whether to adopt any of the police recommendations to prosecute. If Mandelblit drags his feet enough, Netanyahu may even be able to call a new election before he faces trial. Indeed, he said this week he will run again in elections that must be held by the end of 2019.
Opinion polls published after Tuesday's police report showed contradictory and perhaps fluid sentiment: Roughly half of Israelis think Netanyahu should resign, but Likud in general maintains its lead.
If he survives, he could well emerge even more powerful, perhaps vindicated in his longstanding claim that Israel's establishment obsessively conspires against him.
But if he goes, the Middle East equation will be reshuffled and new possibilities would open up.
Netanyahu, who will soon become the longest-serving prime minister in total in Israel's history, has been a singular figure in a variety of ways. Perhaps more than anything, he attaches to a fatalistic disposition that sees peace with the Palestinians as impossible for now. Barring a late about-face, he would be remembered as the silver-tongued hard-liner who never made the shift to peacemaker that many hoped for.
WHAT MAKES NETANYAHU SPECIAL?
Central to everything in Israel is the fate of the West Bank, Gaza and east Jerusalem, territories captured in 1967 from Jordan and Egypt and claimed, with support of most of the world, by the Palestinians for a future state that would share the Holy Land with Israel.
Most of Israel's establishment supports such a partition, including former security figures who spent their lives keeping Palestinian resistance at bay. Israel's business community, academics, artists and judiciary generally seem to lean the same way.
Netanyahu's right-wing bloc has tried to prevent or at least delay and diminish any pullout from the territories, despite decades of efforts in that direction. The arguments range from religious ones involving God's promise of the land to the Jews to practical concerns about the danger of handing over strategic highland overlooking central Israel.
But the right has struggled to articulate a vision on how to preserve the "Jewish state" when the combined Arab and Jewish populations in Israel and the territories are about evenly divided.
Will the Palestinians suffice forever with their disconnected autonomy zones established after peace efforts in the 1990s? If they demand outright annexation and the right to vote, as some Palestinian officials already are suggesting, Israel will be forced to choose between preserving its democracy or its Jewish majority.
Amid the stagnation, the government continues to add Jewish settlers to the West Bank, making a future partition even more difficult in what the center-left opposition considers nothing less than a suicide mission.
Netanyahu's ability to keep this policy ship afloat despite vehement opposition in key quarters, while also enabling Israel to prosper, has required intellectual depth, diplomatic dexterity and political acumen that would be hard to replace among his potential Likud successors. He has used his eloquence and native-level English — acquired during years in the U.S. — to further a host of international projects, most prominently trying to undo the nuclear deal with Iran.
Widely respected if not always admired, popular with his base yet toxic to opponents, Netanyahu has gripped attention like few Israeli leaders before him. Adding to the brew are the bizarre scandals that have beset his family, from household servants suing his wife for various abuses over the years to a lewd recording that emerged last month of his adult son joyriding to strip clubs with a government driver in tow.
WHAT IS THE POLITICAL REALITY IN ISRAEL?
Israel is bewilderingly fractious and complex, but essentially it's divided between a "rightist" bloc composed of Netanyahu's Likud, plus other nationalist and religious parties, versus a "leftist" bloc of more moderate parties plus a grouping representing the Arab minority of some 20 percent.
The right has in recent years appeared to build up a narrow but consistent natural advantage based on two factors. First, the Jewish religious sector, also totaling about 20 percent, has a high birthrate; second, Netanyahu has been effective in arguing that previous governments' failures to close a deal despite far-reaching territorial offers has exposed the Palestinians as irredeemably hostile and intransigent.
In recent years, Netanyahu also has promoted an agenda seeking to overhaul Israel's hard-earned but brittle liberal democracy. To some, he is a member of the emerging pantheon of illiberal-yet-elected global leaders, finding parallels from Russia to Turkey to Hungary and even Donald Trump's United States. In some ways, having for decades made a bogeyman of the "elites," he preceded all those cases.
His cronies have tried to curb the judiciary; hamper the work of liberal nongovernmental organizations; denigrate the media; and argue that the arts are tools of turncoat liberals.
These messages resonate with his base, especially the significant chunk of Middle East-descended Jews. They lean conservative and traditional and have long resented Israel's founding European-descended and more secular establishment.
The irony is that Netanyahu is himself a European-descended professor's son who grew up amid privilege, served in an elite military unit, wrote books and has always promoted capitalistic policies that spurred growth but also benefited the rich.
If Netanyahu goes, he will leave his successor a toxic brew of resentment and division, not just between Jews and Arabs, but among the competing groups that constitute Israel's Jewish majority.
The highly partisan, good-versus-evil rancor was clear in the reactions this week. Likud lawmaker Miki Zohar said the public "knows that this is an attempted coup." Yair Lapid, head of the opposition Yesh Atid Party, accused Netanyahu of seeking to make Israel "a country where honest people are scared of speaking the truth."
WHAT COULD HAPPEN IN THE REGION?
A decade ago, when Netanyahu led the opposition, he argued that then-premier Ehud Olmert could not stay in office while facing a police investigation, claiming a leader "sunk up to his neck in interrogations" could not govern properly. Olmert stepped down under withering pressure, cutting off peace talks that seemed close to a breakthrough for the Palestinians. He ended up in jail.
After Israel carried out airstrikes in Syria last weekend in response to an aerial incursion by an Iranian drone, some opponents speculated that Netanyahu might try to "heat up" the security situation as diversion.
But things could break the other way as well. About 15 years ago, Israel was led by another right-winger, Ariel Sharon, also facing corruption allegations. Sharon stunned observers by turning against the occupation of the Palestinians and leading a unilateral pullout from the Gaza Strip. Many people believe the move, welcomed by the same elites who once spurned Sharon, contributed to the decision not to prosecute him.
Today's wild card could be the "deal of the century" touted by Trump, who is believed to be working on a plan to resolve the Israeli-Palestinian dispute and forge a wider regional rapprochement between Israel and the major Sunni Muslim nations. Cynics would say progress along such a path, with Netanyahu taking genuine risks for peace, could give prosecutors pause.