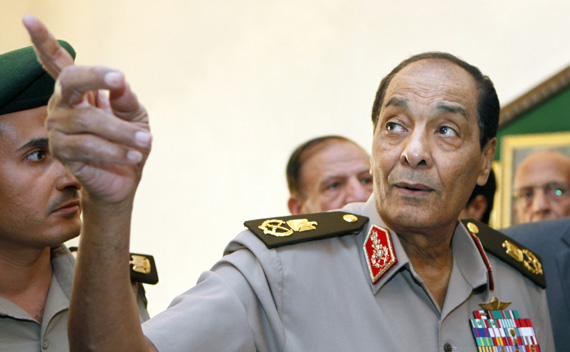 A lawyer has filed a complaint at the public prosecutor's office demanding that the prosecution ban former head of the Supreme Council of the Armed Forces Hussein Tantawi from travel and investigate his role in the killing of protesters during the transitional period.
In his complaint, Samir Sabry said that he had filed previous ones against Tantawi and former military Chief-of-Staff Sami Anan accusing them of murdering protesters.
Sabry also pointed out that several newspapers and websites had circulated news that Tantawi was planning to seek medical treatment abroad, and that the presidency has not yet responded to his request to travel.
"Reports had quoted sources saying that Tantawi was trying to flee abroad by making his request, as former presidential [candidate] Ahmed Shafiq and other businessmen and ministers have," Sabry argued.
Activists have demanded that members of the SCAF be investigated for the deaths of dozens of protesters during numerous violent incidents that occurred during their rule. The SCAF served as the de facto executive of the country after the ouster of former President Hosni Mubarak until 30 June, when President Mohamed Morsy was sworn in.
Morsy sent Tantawi and Anan to retirement in August and granted them state awards. While some observers said the awards protect the former military leaders from prosecution, Justice Minister Ahmed Mekky said in statements to Turkish state-run Anadolu news agency at the end of August that state awards do not shield the pair from trial.
Edited translation from Al-Masry Al-Youm